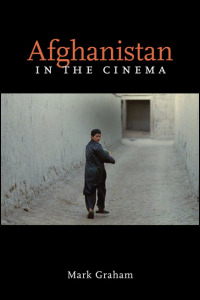 Afghanistan in the Cinema
Awards and Recognition:
A ChoiceOutstanding Academic Title, 2011.
Representing Afghanistan in film, from the West and East
In this timely critical introduction to the representation of Afghanistan in film, Mark Graham examines the often surprising combination of propaganda and poetry in films made in Hollywood and the East. Through the lenses of postcolonial theory and historical reassessment, Graham analyzes what these films say about Afghanistan, Islam, and the West and argues that they are integral tools for forming discourse on Afghanistan, a means for understanding and avoiding past mistakes, and symbols of the country's shaky but promising future. Thoughtfully addressing many of the misperceptions about Afghanistan perpetuated in the West, Afghanistan in the Cinema incorporates incisive analysis of the market factors, funding sources, and political agendas that have shaped the films.
The book considers a range of films, beginning with the 1970s epics The Man Who Would Become King and The Horsemen and following the shifts in representation of the Muslim world during the Russian War in films such as The Beast and Rambo III. Graham then moves on to Taliban-era films such as Kandahar, Osama, and Ellipsis, the first Afghan film directed by a woman. Lastly, the book discusses imperialist nostalgia in films such as Charlie Wilson's War and destabilizing visions represented in contemporary works such as The Kite Runner.
---
"Afghanistan in the Cinema challenges us to see through the web of barely visible ideology spun by pundits and politicians."--ExpressMilwaukee.com

"Thrillingly, dangerously pivotal. If the value of movies about Afghanistan is understanding Afghanistan, this book is a wonder. Essential."--Choice
"In analyzing film depictions of Afghanistan, Mark Graham makes a wise and rarely heard argument about the ways the international art film festival circuit is guilty of ethnocentrism. An eloquent and challenging study with much potential for teaching and discussion around issues of the so-called clash of civilization between Islam and the West."--Ellen Seiter, creator of the documentary Projecting Culture: Perceptions of Arab and American Films
---
To order online:
//www.press.uillinois.edu/books/catalog/67epb4dw9780252035272.html
To order by phone:
(800) 621-2736 (USA/Canada)
(773) 702-7000 (International)
Related Titles