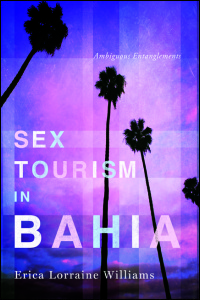 Sex Tourism in Bahia
Ambiguous Entanglements
Awards and Recognition:
National Women's Studies Association / University of Illinois Press First Book Prize, 2011
How sexism, racism, and socio-economic inequality interact in the Brazilian sex industry
Brazil has the largest national economy in Latin America and a population five times greater than any other South American country--and for nearly a decade, Brazil has surpassed Thailand as the world's premier sex tourism destination. As the first full-length ethnography of sex tourism in Brazil, this pioneering study treats sex tourism as a complex and multidimensional phenomenon that involves a range of activities and erotic connections, from sex work to romantic transnational relationships. Erica Lorraine Williams explores sex tourism in the Brazilian state of Bahia from the perspectives of foreign tourists, tourism industry workers, sex workers who engage in liaisons with foreigners, and Afro-Brazilian men and women who contend with foreigners' stereotypical assumptions about their licentiousness.
In her analysis, Williams argues that the cultural and sexual economies of tourism are inextricably linked in the Bahian capital city of Salvador. She shows how the Bahian state strategically exploits the touristic desire for exotic culture by appropriating an eroticized blackness and commodifying the Afro-Brazilian culture in order to sell Bahia to foreign travelers. Drawing on ethnographic research and in-depth interviews, Sex Tourism in Bahia: Ambiguous Entanglements combines historical, sociological, anthropological, cultural-studies, and feminist perspectives to demonstrate how sexism, racism, and socioeconomic inequality interact in the context of tourism in Bahia.
---
"Williams successfully convinces her reader that the eroticization of Afro-Brazilians' bodies and their resulting role as icons of sex tourism are historically rooted in the intersection of race and sexuality in Brazil."--Current Anthropology

"Not just a book for academics in the field of tourism or racial studies. Williams' engaging writing style also makes this book ideal for both undergraduate and post-graduate students with a sociological or anthropological interest in tourism, race or migration. Overall, this is a must read for academics and students interested in areas of race and/or tourism and I would certainly have no hesitation in recommending it."--Ethnic and Racial Studies

"As Erica Williams shows well in Sex Tourism, Brazil is an important setting for research on the subject as it has long been a destination for racialised and sexualised tourism. A persuasive and important contribution to knowledge in the overlapping fields of gender studies, tourism studies and cultural anthropology."--Journal of Latin American Studies

"This well-written ethnography provides an excellent example of the ambiguities of transnational sex and the ways that individuals negotiate global processes such as tourism on a day-to-day basis. Of interest to anthropologists, sociologist, and geographers of gender, sexuality, race, and transnationality, it would also be a most welcome addition to upper-level undergraduate or graduate courses on tourism and Latin American and Caribbean studies."--Contemporary Sociology

"In the first ethnographic study of sex workers in Bahia, Brazil, Dr. Erica Lorraine Williams deftly situates sex tourism within the local, national and international spheres of economics, history, race and sexuality. Writing with an ability to speak to a range of readers from undergraduates to experts in the field, Williams provides an intriguing, complicated, and specific account of how sex workers, both male and female, negotiate their jobs, identities, sexualities and racial identities/representations in the sex tourism capital of the world. . . . By opening up her research to a variety of relationships, Williams allowed Bahia to teach her rather than the other way around, a much-needed lesson for all students and scholars."--Women's Studies International Forum

"Sex Tourism in Bahia is a very successful ethnographic text that raises interesting questions and issues related to how we define 'sex tourism' and 'sex work,' the ways government and institutional programs are complicit in perpetuating racial and gender stereotypes of hypersexuality and vulnerability, and the links between transnational desires and the proliferation of sexual and affective liaisons."--H-Net Reviews
"This ambitious, fascinating ethnography clearly articulates how sex tourism in Bahia, Brazil, depends on the sexualized and racialized bodies of people of African descent. Erica Lorraine Williams makes a significant contribution by examining how sex tourism is both a racial and sexual project and how race is central to the commodification of culture."--Amalia L. Cabezas, author of Economies of Desire: Sex and Tourism in Cuba and the Dominican Republic
---
To order online:
//www.press.uillinois.edu/books/catalog/67nsg8gz9780252037931.html
To order by phone:
(800) 621-2736 (USA/Canada)
(773) 702-7000 (International)
Related Titles