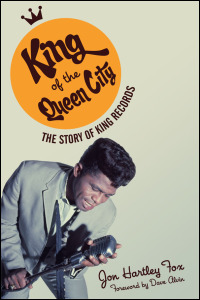 King of the Queen City
The Story of King Records
Awards and Recognition:
Awarded a Certificate of Merit by the Association for Recorded Sound Collections (ARSC) for Best Research in Record Labels, 2010
From James Brown to the Stanley Brothers, the glory years of a pioneering independent American record company
King of the Queen City is the first comprehensive history of King Records, one of the most influential independent record companies in the history of American music. Jon Hartley Fox tells the story of a small outsider record company in Cincinnati, Ohio, that attracted an extremely diverse roster of artists, including the Stanley Brothers, Grandpa Jones, Redd Foxx, Earl Bostic, Bill Doggett, Lonnie Johnson, Ike Turner, Roy Brown, Freddie King, Eddie Vinson, Johnny "Guitar" Watson, and even a young James Brown. While other record companies of the day made their fortunes by concentrating on one style of music, King Records was active in virtually all genres of vernacular American music, from blues and R & B to rockabilly, bluegrass, western swing, and country.
Founded by Cincinnati businessman Sydney Nathan in the mid-1940s, King Records led the way for the hundreds of independent record companies of the 1940s and 1950s. Fox weaves together the elements of King's success, focusing on the dynamic personalities of the artists, producers, and key executives such as Nathan, Henry Glover, and Ralph Bass. Drawing on personal interviews, research in contemporary newspapers and periodicals, and deep access to the King archives, this book captures a sense of the inspired mayhem that permeated King Records in its glory days.
A progressive company in a reactionary time, King Records was also an early pioneer in racial integration, with an interracial creative and executive staff that redefined the face and voice of American music as well as the way it was recorded and sold. Analyzing the record industry's corporate culture and the national context of King's music, Fox assesses the meaning of King Records in postwar America and discusses the label's decline after 1968, when Nathan died and the company was acquired by Starday Records. With a foreword by legendary guitarist, singer, and songwriter Dave Alvin, King of the Queen City fondly looks back at an influential, innovative, and inspirational enterprise in American music.
---
"Fascinating biography on Syd Nathan's King Records. 4 stars."--MOJO

"Fox makes a great case for the influence and importance of King Records, touching on the label's efforts in chapters dedicated to each style of music the label recorded. One chapter is appropriately dedicated to the label's biggest star, James Brown, and Fox talks about the label's interracial staff and early 'do it yourself' aesthetic with lively prose that will entertain any reader."--About.com: Blues

"Fox and the University of Illinois Press have given us an important book about a very important operation. Thank you."--Oxford American

"This is a remarkable achievement. . . . Jon Hartley Fox is to be thanked for his impressive addition to the popular music literature."--Jazz & Blues Report

"A much needed glimpse of an underappreciated pop culture institution."--Publishers Weekly

"In Jon Hartley Fox's well-researched new book, he shows how label founder Syd Nathan, a brusque, cigar-chomping record man with a knack for spotting recording talent and hits, built King to provide music by and for 'the little people' the majors ignored."--American Songwriter

"As entertaining and dynamic a story as the music that inspired it."--Metro Times

"An absorbing read. 4 stars"--Record Collector

"An excellent biography of an independent label that became a major player in the record game."--Downbeat

"A superb book."--Nashville City Paper

"A fine book written with love and care by somebody who knows the business and the music, and hasn't lost his way." --NoDepression.com
"In its time--1943 to the late 1960s--King Records was absolutely unique, and it deserves a unique account of its history. King of the Queen City is that account: focused, thoroughly researched, well written, and filled with vital information about America's most important independent record label."--Nolan Porterfield, author of Jimmie Rodgers: The Life and Times of America's Blue Yodeler

"As a longtime fan of King artists such as Freddie King, Wade Mainer, and the Spirit of Memphis, I have waited patiently for someone to write a book about King Records. King of the Queen City relates the fascinating story of Syd Nathan's life's work and his sometimes eccentric record company."--Kip Lornell, author of The NPR Curious Listener's Guide To American Folk Music
---
To order online:
//www.press.uillinois.edu/books/catalog/67rsc9mz9780252034688.html
To order by phone:
(800) 621-2736 (USA/Canada)
(773) 702-7000 (International)
Related Titles