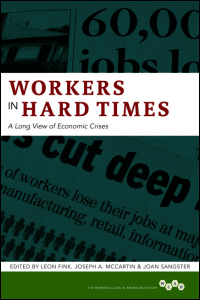 Workers in Hard Times
A Long View of Economic Crises
Awards and Recognition:
• ILHA Book of the Year Award, International Labor History Association, 2014
Historical perspectives on workers, capitalism, and the "Great Recession"
Seeking to historicize today's "Great Recession," this volume of essays situates the current economic crisis and its impact on workers in the context of previous abrupt shifts in the modern-day capitalist marketplace. Contributors use examples from industrialized North America, South America, Europe, Asia, and Australia to demonstrate how workers and states have responded to those shifts and to their disempowering effects on labor.
Since the Industrial Revolution, contributors argue, factors such as race, sex, and state intervention have mediated both the effect of economic depressions on workers' lives and workers' responses to those depressions. Contributors also posit a varying dynamic between political upheaval and economic crises, and between workers and the welfare state.
The volume ends with an examination of today's "Great Recession": its historical distinctiveness, its connection to neoliberalism, and its attendant expressions of worker status and agency around the world. A sobering conclusion lays out a likely future for workers--one not far removed from the instability and privation of the nineteenth century. The essays in this volume offer up no easy solutions to the challenges facing today's workers. Nevertheless, they make clear that cogent historical thinking is crucial to understanding those challenges, and they push us toward a rethinking of the relationship between capital and labor, the waged and unwaged, and the employed and jobless. Contributors are Sven Beckert, Sean Cadigan, Leon Fink, Alvin Finkel, Wendy Goldman, Gaetan Heroux, Joseph A. McCartin, David Montgomery, Edward Montgomery, Melanie Nolan, Bryan D. Palmer, Scott Reynolds Nelson, Joan Sangster, Judith Stein, Hilary Wainright, and Lu Zhang.
---
"Recommended."--Choice

"This is the rare edited collection that makes readers wish they were at the original conference at which the papers first appeared. . . . Present there and in this volume are some of the biggest names in labor and industrial history."--The Journal of American History

"The quality of writing is high. I recommend the book highly to all interested in the topic indicated in its title."--Labor Studies Journal

"The essays serve as important reminders of how interconnected world economic conditions have always been, and of how much more interconnected they are now."--The Journal of American History

"This book could have been another collection of essays in which academics principally talk to each other, but it is instead accessible to both academic and non-academic audiences. Hopefully, interested readers yearning for social and economic justice will peruse its pages and maybe even be inspired to unfurl a red flag."--The Canadian Historical Review
"Workers in Hard Times: A Long View of Economic Crises examines the history of economic depressions, recessions, and crises in North America, New Zealand, Australia, parts of Europe and Asia, and worker responses to them. At its core lie the issues of agency and structure, culture and conditioning. The well-written essays will appeal to those interested in past and present responses to economic troubles and ways out of the current global recession."--Neville Kirk, author of Labour and the Politics of Empire: Britain and Australia 1900 to the Present
---
To order online:
//www.press.uillinois.edu/books/catalog/67yay3ee9780252038174.html
To order by phone:
(800) 621-2736 (USA/Canada)
(773) 702-7000 (International)
Related Titles