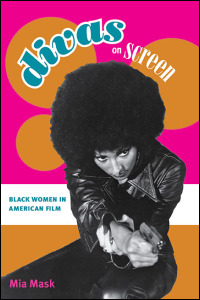 Divas on Screen
Black Women in American Film
Awards and Recognition:
A Choice Outstanding Academic Title, 2011.
Accessible, theoretical readings of popular African American women film icons
This insightful study places African American women's stardom in historical and industrial contexts by examining the star personae of five African American women: Dorothy Dandridge, Pam Grier, Whoopi Goldberg, Oprah Winfrey, and Halle Berry. Interpreting each woman's celebrity as predicated on a brand of charismatic authority, Mia Mask shows how these female stars have deftly negotiated the uneven terrain of racial, gender, and class stereotypes. As international celebrities, these women have ultimately complicated the conventional discursive and industrial practices through which blackness and womanhood have been represented in commercial cinema, independent film, and network television.
Mask examines the function of these stars in seminal yet underanalyzed films. She considers Dandridge's status as a sexual commodity in films such as Tamango, revealing the contradictory discourses regarding race and sexuality in segregation-era American culture. Grier's feminist-camp performances in sexploitation pictures Women in Cages and The Big Doll House and her subsequent blaxploitation vehicles Coffy and Foxy Brown highlight a similar tension between representing African American women as both objectified stereotypes and powerful, self-defining icons. Mask reads Goldberg's transforming habits in Sister Act and The Associate as representative of her unruly comedic routines, while Winfrey's daily television performance as self-made, self-help guru echoes Horatio Alger's narratives of success. Finally, Mask analyzes Berry's meteoric success by acknowledging the ways in which Dandridge's career made Berry's possible.
---
"[A] remarkable, straightforward book. . . . Mask interrogates the star personae of each of her subjects with a rigor that is unique and as refreshing as it is accessible and well written. Mask's cultural critique of her subjects and the world in which they operate resonates long after one has finished the volume. Highly recommended."--Choice
"An original and imaginative work that is full of intellectual energy, insight, and engaged writing."--Hazel V. Carby, author of Cultures in Babylon: Black Britain and African America

"Mia Mask deftly weaves the lines of inquiry, theory, popular culture, and history while making the complex lives of these amazing, charismatic black women accessible and understandable in fresh conceptual ways."--Ed Guerrero, author of Framing Blackness: The African American Image in Film
---
To order online:
//www.press.uillinois.edu/books/catalog/67zyp9kh9780252034220.html
To order by phone:
(800) 621-2736 (USA/Canada)
(773) 702-7000 (International)
Related Titles