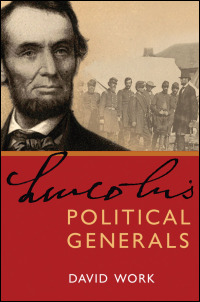 Lincoln's Political Generals
Awards and Recognition:
Winner of the Hay-Nicolay Prize of the Abraham Lincoln Association and the Abraham Lincoln Institute
Boldly reassessing the contested legacy of Lincoln's military appointments
At the beginning of the Civil War, President Abraham Lincoln sought to bind important political leaders to the Union by appointing them as generals. The task was formidable: he had to find enough qualified officers to command a military that would fight along a front that stretched halfway across the continent. West Point hadn't graduated enough officers, and many of its best chose to fight for the Confederacy. Lincoln needed loyal men accustomed to organization, administration, and command. He also needed soldiers, and political generals brought with them their constituents and patronage power.
As the war proceeded, the value of the political generals became a matter of serious dispute. Could politicians make the shift from a political campaign to a military one? Could they be trusted to fight? Could they avoid destructive jealousies and the temptations of corruption? And with several of the generals being Irish or German immigrants, what effect would ethnic prejudices have on their success or failure?
In this book, David Work examines Lincoln's policy of appointing political generals to build a national coalition to fight and win the Civil War. Work follows the careers of sixteen generals through the war to assess their contributions and to ascertain how Lincoln assessed them as commander-in-chief. Eight of the generals began the war as Republicans and eight as Democrats. Some commanded armies, some regiments. Among them were some of the most famous generals of the Union--such as Francis P. Blair Jr., John A. Dix, John A. Logan, James S. Wadsworth--and others whose importance has been obscured by more dramatic personalities.
Work finds that Lincoln's policy was ultimately successful, as these generals provided effective political support and made important contributions in military administration and on the battlefield. Although several of them proved to be poor commanders, others were effective in exercising influence on military administration and recruitment, slavery policy, and national politics.
---
"A very fine study."--Civil War Book Review

"Readers, especially those interested in the fascinating relationship between war and politics in the Northern war effort, will find this book enjoyable and useful."--Journal of American History

"Work has produced a book certain to generate both controversy and further investigation. Recommended."--Choice

"Exciting and fresh."--H-CivWar
"In this thoroughgoing study of sixteen 'political generals' in the Union army, David Work demonstrates convincingly that these generals' efforts significantly aided the Union war effort in their capacity as administrators, political supporters, recruiters and organizers of troops, and advocates of the Union cause among key political and ethnic constituencies."--James M. McPherson, author of Battle Cry of Freedom: The Civil War Era, winner of the Pulitzer Prize

"With an appealing even-handedness, Lincoln's Political Generals fills a hole in the literature on the Civil War. David Work's military analysis of these men and their careers is sound and balanced. A very valuable contribution to our knowledge of both Lincoln and the Civil War."--Brian Dirck, author of Lincoln the Lawyer

"David Work's outstanding Lincoln's Political Generals is a story of leadership, demonstrating Abraham Lincoln's political and military genius in appointing political generals to help win the Civil War. Democrats as well as Republicans were enlisted and aided in this effort. In this well written and judicious rendering, Work analyzes this dynamic of Lincoln's leadership as he performed the arduous duties of Chief Magistrate and Commander-in-Chief during America's worse crisis--until now."--Frank J. Williams, former Chief Justice of the Rhode Island Supreme Court and founding chair of the Lincoln Forum
---
To order online:
//www.press.uillinois.edu/books/catalog/68ccr8gx9780252034459.html
To order by phone:
(800) 621-2736 (USA/Canada)
(773) 702-7000 (International)
Related Titles