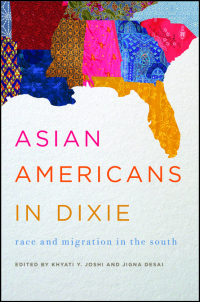 Asian Americans in Dixie
Race and Migration in the South
Awards and Recognition:
• A Choice Outstanding Academic Title, 2014
Asian Americans infuse the American South with a new racial dynamic
The migrations of Manilamen, Bengali Muslim peddlers, and Chinese merchants and coolies extend the history of Asian Americans in the South into the early nineteenth and twentieth century. Between 1950 and 2000, the Asian American population in the American South increased more than one hundred times, much higher than the national average and the greatest increase among all regions of the United States. Extending the understanding of race and ethnicity in the South beyond the prism of black-white relations, this interdisciplinary collection explores the growth, impact, and significance of Asian Americans in Southern life and discusses the formation of past and emerging Asian American communities in the region. As these essays illustrate, Asian Americans have remade the Southern landscape with a visible, vital presence in many towns, suburbs, and cities.
Avoiding the usual focus on the East and West Coasts, the collection examines the historical and contemporary significance of Asian American migration, religious identities, and racial formations in the South. Several essays attend to the nuanced ways in which Asian Americans negotiate the dominant black and white racial binary, while others provoke readers to reconsider the supposed cultural isolation of the region, reintroducing the South within a historical web of global networks across the Caribbean, Pacific, and Atlantic. Representing a range of fields including history, literary studies, sociology, and cultural studies, Asian Americans in Dixie emphasizes the necessity of understanding Asian Americans in the South within the context of global empire, immigration, transnationalism, and a deeper understanding of race and ethnicity.
Contributors are Vivek Bald, Leslie Bow, Amy Brandzel, Daniel Bronstein, Jigna Desai, Jennifer Ho, Khyati Y. Joshi, ChangHwan Kim, Marguerite Nguyen, Purvi Shah, Arthur Sakamoto, Jasmine Tang, Isao Takei, and Roy Vu.
---
"This collection brings valuable attention to the largely overlooked experiences of Asian Americans in the southern US. . . . An important contribution to Asian American studies. Essential."--Choice

"A timely and necessary contribution to multiple fields of inquiry, including southern history and studies, immigration history, urban history, foreign relations history, U.S. history writ large, religious studies, American studies, ethnic studies, and Asian American studies. . . . Fresh and forward-looking, Asian Americans in Dixie should serve as a launching pad for new directions in the histories of race, migration, and the U.S. South."--The Journal of Southern History

"Asian Americans in Dixie succeeds in revealing the complex nature of race, community, and Asian American identify and experience in the South both past and present."--Register of the Kentucky Historical Society
"Delving into the complex history of race and ethnicity in the American South, these scholars explore the ways in which Asian Americans must be part of that narrative, both past and present. This book will have great potential as a teaching tool in Asian American studies and Southern studies."--Krystyn R. Moon, author of Yellowface: Creating the Chinese in American Popular Music and Performance, 1850s–1920s
---
To order online:
//www.press.uillinois.edu/books/catalog/68edr6dh9780252037832.html
To order by phone:
(800) 621-2736 (USA/Canada)
(773) 702-7000 (International)
Related Titles