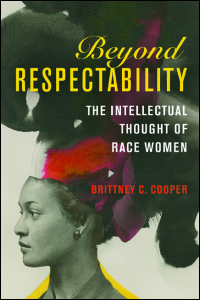 Beyond Respectability
The Intellectual Thought of Race Women
Awards and Recognition:
• Merle Curti Intellectual History Award, Organization of American Historians (OAH), 2018
• A Choice Outstanding Title, 2018; One of Zora Magazine's 100 Best Books by African American Women Authors
The women and ideas behind the triumph of the black female intellectual
In the late nineteenth century, a group of publicly active African American women emerged from the social and educational elite to assume racial leadership roles. Their work challenged thinking on racial issues as well as questions about gender, sexuality, and class.
Beyond Respectability charts the development of African American women as public intellectuals and the evolution of their thought from the end of the 1800s through the Black Power era of the 1970s. Eschewing the Great Race Man paradigm so prominent in contemporary discourse, Brittney C. Cooper looks at the far-reaching intellectual achievements of female thinkers and activists like Anna Julia Cooper, Mary Church Terrell, Fannie Barrier Williams, Pauli Murray, and Toni Cade Bambara. Cooper delves into the processes that transformed these women and others into racial leadership figures, including long-overdue discussions of their theoretical output and personal experiences. As Cooper shows, their body of work critically reshaped our understandings of race and gender discourse. Cooper's work, meanwhile, confronts entrenched ideas of how--and who--produced racial knowledge.

Film Credit: Bob Greenberg at Brainwaves
---
"A work of crucial cultural study. . . . [Beyond Respectability] lays out the complicated history of black woman as intellectual force, making clear how much work she has done simply to bring that category into existence."--NPR

"If black women's history is your thing, Beyond Respectability should definitely be on your reading list."--Bitch

"Beyond Respectability is an intricate temporal and spatial tapestry that weaves together the development and evolution of black feminist thought. Cooper's sophisticated analysis not only recovers the intellectual proficiency of race women, but also emphasizes the embodied nature of public intellectualism."--Antipode

"Beyond Respectability is an invigorating testament to the pivotal legacies of changemakers like Pauli Murray, Anna Julia Cooper, and Mary Church Terrell and why the intellectual work of black women cannot and will not be forgotten."--Signature

"Cooper's study demands that we dive deeper into the intellectual artifacts left by black women thinkers as a means of supporting the evolution of black feminist discourse and political action."--Public Books

"Beyond Respectability is one small part of a much larger picture. This is a valuable contribution to the whole."--Journal of American History

"Beyond Respectability is a multifaceted and robust record of women's important work. . . . There's something in Beyond Respectability for every race woman-- and for the activist, the herstorian, the public intellectual, and the student, and all guardians of our nation's honest history."--Women's Review of Books

"By moving 'beyond respectability,' Cooper's black feminist thought takes us into the constructive possibility that has marked so many black women's lives."--Christian Century

"Beyond Respectability is a memorable narrative of struggle and triumph. Its lasting impact is Brittney C. Cooper's willingness to share how race women intellectuals are the reason why scholars can write of Black women thinkers' contributions today."--Women's History Review

"One of the best books written on black women's intellectual traditions thus far. This book is an intellectually stimulating must-read for individuals interested in, but not limited to, black feminism and black intellectual thought. It should be a required text in African American studies, gender studies, feminist philosophy, and literary studies, among others."--Hypatia Reviews

"Beyond Respectability can be read as a brilliant critique to academia's superficial engagements with gender and race theory." --Women's Studies International Forum
"At the cutting edge of black women's intellectual history, Brittney Cooper weaves together the ideas and lived experiences of women heretofore known as activists rather than thinkers. Through exacting analysis, a feminist lens, and her signature verve, Cooper establishes the centrality of black women's ideas to twentieth century political thought. This is a pathbreaking history of ideas."--Martha S. Jones, author of All Bound Up Together: The Woman Question in African American Public Culture, 1830–1900

"Brittney Cooper's Beyond Respectability. . . .makes an important contribution to a large body of scholarship that analyzes the long history of Black women's intellectual discourse. Focusing on the feminist theorizing of selected 'race women,' especially Fannie Barrier Williams, Anna Julia Cooper, Mary Church Terrell, Pauli Murray, and Toni Cade Bambara, Cooper probes their interior lives in new ways and makes more visible the complexities of their public stances. Her brilliant analysis and queer reading of Murray's life is perhaps its most compelling revisionist intervention."--Beverly Guy-Sheftall, coeditor of Words of Fire: An Anthology of African Feminist Thought
---
To order online:
//www.press.uillinois.edu/books/catalog/68emc6tz9780252040993.html
To order by phone:
(800) 621-2736 (USA/Canada)
(773) 702-7000 (International)
Related Titles