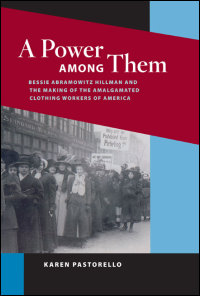 A Power among Them
Bessie Abramowitz Hillman and the Making of the Amalgamated Clothing Workers of America
The extraordinary life of labor activist, immigrant, and feminist, Bessie Abramowitz Hillman
Karen Pastorello's pathbreaking biography of Bessie Abramowitz Hillman places Hillman at the center of events that marked the founding of Amalgamated Clothing Workers of America (ACWA). Born in Tsarist Russia to an educated family, the teenaged Bessie Abramowitz immigrated alone to Chicago to escape an arranged marriage. Empowered by her connection to the social feminist reform movement centered at Hull-House, she was one of the first to walk off the job as a button sewer in September 1910 in protest of an arbitrary reduction of wages. Within weeks, more than thirty-five thousand workers followed the lead of Abramowitz and her cohorts. A massive strike resulted, paralyzing men's clothing manufacturers in Chicago and paving the way for the organization of the men's garment industry under the United Garment Workers (UGW).
In 1914 Bessie Abramowitz Hillman led a breakaway group from the exclusionary UGW to reorganize as the Amalgamated Clothing Workers of America and was the first woman appointed to the general executive board of the new union. While married to Sidney Hillman (the ACWA's first president) and raising two children, she traveled throughout the rural Northeast, organizing workers in sweatshops that had relocated from unionized metropolitan areas. In the 1930s she worked to bring black laundry workers into ACWA, and during World War II she established child-care centers and recreational facilities for the children of war workers. After the war, she served on numerous federal commissions on women and labor, seeking to end race and class injustice and improve the quality of life for working women.
The description of Hillman's career as a feminist in the labor movement indicates the prominence of women labor activists in that movement during the early and middle twentieth century. Drawing from newly discovered, official union records and valuable interviews of family members, Pastorello traces the life of a key female labor activist whose sixty-year career spanned Progressive Era social feminism and the feminism of the postwar labor movement.
---
"The book is written with such craft that it reads almost like entertaining historical fiction. . . . A great resource for labor history and women's studies collections. Highly recommended."--Choice

"Valuable in its focus on a figure underappreciated even in other literature on the ACW. . . . A real contribution to the scholarship on the struggle of labor women to merge class and gender identities in finding meaningful work and building productive lives."--American Jewish History

"A Power Among Themis a lively account of the life of Bessie Hillman, a woman who has previously not received enough attention given the important role she played in improving rights for women, immigrants, African Americans, and the working class in the United States."--Labour/Le Travail

"A model biography."--History News Network

"A carefully researched and engaging biography that makes vivid the many changes affecting union women in the twentieth century."--Enterprise and Society
"Pastorello's vigorous chronicle of the tumultuous, eventful life of Bessie Abramowitz Hillman recognizes Hillman as a major contributor to American social reform and restores her to her rightful place in the historical narrative. Readers will be captivated by Pastorello's skillful rendering of the exhilarating world of Chicago Hull-House social reformers; the Amalgamated Clothing Workers of America campaigns to organize Philadelphia sweatshops, teenagers in rural Pennsylvania shirt factories, and African American laundry workers in New York; the restiveness of working-class women in the post-World War II decades; and the emergence of labor feminism on the national stage."--Dorothy Sue Cobble, author of The Other Women's Movement: Workplace Justice and Social Rights in Modern America

"This compelling life story of an immigrant woman factory worker adds to our understanding of the founding and development of an important union, the Amalgamated Clothing Workers of America, and illuminates the emerging concept of labor feminism."--Brigid O'Farrell, coeditor of Rocking the Boat: Union Women's Voices, 1915-1975
---
To order online:
//www.press.uillinois.edu/books/catalog/68sxh6xy9780252032301.html
To order by phone:
(800) 621-2736 (USA/Canada)
(773) 702-7000 (International)
Related Titles