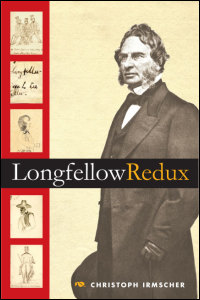 Longfellow Redux
Awards and Recognition:
A Choice Outstanding Academic Title (2007)
In defense of America's first "pop" poet
The time has come to take another look at Longfellow, America's most popular poet. Christoph Irmscher overturns the modern prejudice against Longfellow as the mere purveyor of literary comfort food. Examining his unpublished papers alongside letters written by his fans at home and abroad, Irmscher offers a fresh view of the poet's connection with his audience. Reviewing Longfellow's idea of authorship, his travels, and his translations, Irmscher demonstrates that Longfellow saw literature as a transnational conversation breaking down social and linguistic barriers. For Longfellow, the poet was less Emerson's "liberating god" than a distributor of cultural goods democratically shared by authors and readers alike. Longfellow Redux is the first book-length study of Longfellow's poetry since 1966 and contains numerous illustrations, including previously unpublished pencil sketches by Longfellow himself.
---
"A friendly and readable scholarly book about Longfellow, which seeks to introduce a cosmopolitan and democratically multicultural Longfellow for our time."--Times Literary Supplement

"Irmscher's enthusiasm for his subject is infectious. . . . Readers are likely to be both charmed and edified. As this book makes clear, Longfellow has much to teach us about how poetry can matter to people outside the academy."--New England Quarterly

"Succeeds splendidly in giving us appreciatory access to Longfellow's clear and coherent understanding of himself as a poet, and provides illuminating readings of numerous poems. . . . Irmscher's highly readable, richly detailed, masterly restoration of Longfellow is more than welcome."--Partial Answers
"Longfellow Redux is one of the most important books on Longfellow ever written. With impeccable scholarship, Christoph Irmscher brings us along on a captivating journey across the broad range of Longfellow's truly complex body of work. . . . Irmscher does what many readers in and out of academia might have thought improbable: he makes Longfellow exciting."--Matthew Pearl, author of The Dante Club and editor of Dante's Inferno: The Longfellow Translation

"There was a time when most English-speaking readers from Cambridge to Calcutta could recite Henry Wadsworth Longfellow's poetry. In Christoph Irmscher's Longfellow Redux we are charmingly reminded of that time and of the country's first great celebrity poet. Longfellow Redux is not only a splendid work of scholarship but a wonderfully readable reminder of a world of poetry that is gone forever and the popular poet who was the center of that world. Longfellow Redux is a witty, wise, and important book."--Christopher Corbett, author of Orphans Preferred: The Twisted Truth and Lasting Legend of the Pony Express

"Longfellow Redux, perfectly titled, is a provocative, persuasive, and interesting book."--Daniel Aaron, professor emeritus of American literature, Harvard University

"Irmscher's brilliant recontextualization of Longfellow, based on thorough archival work and fascinating close readings of all sorts of documents, supports an original and important thesis about literary professionalism and 'middle-brow' culture in mid-nineteenth-century America. Longfellow Redux will reorient work on nineteenth-century American poetry at large and its contexts of production."--George Hutchinson, Booth Tarkington Professor of Literary Studies, Indiana University
---
To order online:
//www.press.uillinois.edu/books/catalog/68tpr9ny9780252030635.html
To order by phone:
(800) 621-2736 (USA/Canada)
(773) 702-7000 (International)
Related Titles