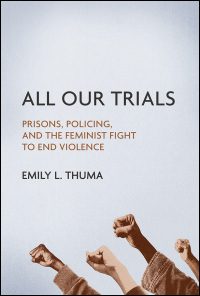 All Our Trials
Prisons, Policing, and the Feminist Fight to End Violence
Awards and Recognition:
* Winner, Lambda Literary Award for Best Book in LGBTQ Studies, 2020
* Finalist, Mary Nickliss Prize in U.S. Women's and/or Gender History, Organization of American Historians, 2020
• Finalist, Lora Romero First Book Publication Prize, American Studies Association, 2020
A grassroots history of resistance to gender violence and the carceral state
During the 1970s, grassroots women activists in and outside of prisons forged a radical politics against gender violence and incarceration. Emily L. Thuma traces the making of this anticarceral feminism at the intersections of struggles for racial and economic justice, prisoners' and psychiatric patients' rights, and gender and sexual liberation.
All Our Trials explores the organizing, ideas, and influence of those who placed criminalized and marginalized women at the heart of their antiviolence mobilizations. This activism confronted a "tough on crime" political agenda and clashed with the mainstream women's movement's strategy of resorting to the criminal legal system as a solution to sexual and domestic violence. Drawing on extensive archival research and first-person narratives, Thuma weaves together the stories of mass defense campaigns, prisoner uprisings, broad-based local coalitions, national gatherings, and radical print cultures that cut through prison walls. In the process, she illuminates a crucial chapter in an unfinished struggle––one that continues in today's movements against mass incarceration and in support of transformative justice.
---
"A timely account." --Indypendent

"Thuma packs tremendous detail and insight into this short, well-written book. I recommend it!" --Chris Dixon, Writing with Movements

"In the contemporary context of social movements such as #BlackLivesMatter, which criticize the ever growing prison-industrial complex and draw attention to illegitimate violence perpetrated by agents of the state, All Our Trials provides a genealogy of the ideas behind alternatives to criminal justice; the roots of restorative and transformative justice theories can be found in the struggles of the 1970s and 1980s."--Punishment and Society

"The book covers an interesting time line from the 1970s to early 1980s to bridge together a discussion of anticarceral feminism and feminist prison abolitionism to create an awareness of the interdependence of struggles, multiple feminisms, and coalition building."--Affilia: Journal of Women and Social Work

"Emily Thuma's All Our Trials: Prisons, Policing, and the Feminist Fight to End Violence is a meticulously researched intervention into histories of feminist antiviolence activism. All Our Trials is a profoundly optimistic and inspiring book. Thuma demonstrates the real power of activism and the way that organizations that are often easily dismissed as too radical or utopian can have far-reaching impacts."--Feminist Formations

"Thuma's historical approach to women, prisons, and policing is insightful and thorough. All Our Trials is an incredibly effective antidote to the most crippling condition that stands in the way of dismantling the carceral state: apathy." --Women's Studies

"Thuma's book is a refreshing antidote to critiques of the feminist anti-violence movement that have ignored the activism of women of color. Highly readable and deeply archival, with many fascinating images of activists, fliers, posters, and newsletters, Thuma's book reveals a previously neglected history of important ideological and social movement roots of the current feminist abolition movement. "--Journal of American History

"All Our Trials offers a vital history for contemporary prison abolitionists seeking to make the world anew. "--Against the Current

"With All Our Trials, Emily L. Thuma has given us a critically important and cutting-edge history of antiviolence activism." --American Historical Review
"All Our Trials offers us a robust history of late twentieth-century radical feminist antiviolence organizing. Thuma reminds us that the activism of the present is built upon an important legacy of work that traversed movements and prison walls. If we are to build an abolitionist feminist future, we would be wise to pay attention to the antiracist queer feminist politics of these activists. We owe a debt of gratitude to them for paving the way, and to Thuma for chronicling their struggles."--Angela Y. Davis, University of California, Santa Cruz

"All Our Trials is a tour de force. It stands among the best books on the history of modern feminist politics and represents one of the most elucidating histories of the US carceral state produced to date. Emily Thuma centers criminalized women's ideas and organizing, providing graceful historical analysis that will undoubtedly influence current conversations about imprisonment, gender, and sexual violence. This history opens a fiercely urgent path toward an anticarceral feminist future."--Sarah Haley, author of No Mercy Here: Gender, Punishment, and the Making of Jim Crow Modernity

"With deep compassion, Thuma offers one of the most compelling historical analyses of how feminist activism of Black, queer, and criminalized women has worked to resist the long and dangerous reach of the carceral state. All Our Trials is an important text in the growing fields of critical prison studies and anti-carceral feminism and a critical addition to activist reading lists."--Beth E. Richie, author of Arrested Justice: Black Women, Violence, and America's Prison Nation

"All Our Trials transforms our understanding of both the history of feminism and of the carceral state. In her deeply compelling account, Thuma documents the work of activists who centered the lives of the most marginalized in their social justice imaginary and their political agenda, producing an anticarceral feminist politics and an expansive analysis of the interconnections between interpersonal and state violence. A crucial and timely read as we wrestle with gender, race, and violence today."--Regina Kunzel, author of Criminal Intimacy: Prison and the Uneven History of Modern American Sexuality
---
To order online:
//www.press.uillinois.edu/books/catalog/68zcs2nd9780252042331.html
To order by phone:
(800) 621-2736 (USA/Canada)
(773) 702-7000 (International)
Related Titles