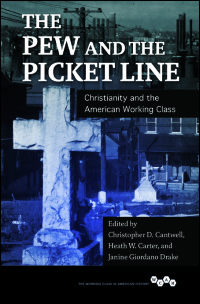 The Pew and the Picket Line
Christianity and the American Working Class
Innovative essays on how faith and capitalism have shaped one-another in the United States
The Pew and the Picket Line collects works from a new generation of scholars working at the nexus where religious history and working-class history converge. Focusing on Christianity and its unique purchase in America, the contributors use in-depth local histories to illustrate how Americans male and female, rural and urban, and from a range of ethnic backgrounds dwelt in a space between the church and the shop floor. Their vivid essays show Pentecostal miners preaching prosperity while seeking miracles in the depths of the earth, while aboveground black sharecroppers and white Protestants established credit unions to pursue a joint vision of cooperative capitalism.
Innovative and essential, The Pew and the Picket Line reframes venerable debates as it maps the dynamic contours of a landscape sculpted by the powerful forces of Christianity and capitalism.
Contributors: Christopher D. Cantwell, Heath W. Carter, Janine Giordano Drake, Ken Fones-Wolf, Erik S. Gellman, Alison Collis Greene, Brett Hendrickson, Dan McKanan, Matthew Pehl, Kerry L. Pimblott, Jarod Roll, Arlene Sánchez-Walsh, and Evelyn Sterne.
---
"With this diverse collection of essays, Cantwell, Carter, and Drake admirably succeed in merging the histories of religion and the working class. Without exception the work is sharply focused and impeccably researched."—History News Network

"Together, the excellent scholars highlight the exciting possibilities and future studies of the histories of religions and labor in the US. This book covers wide ground temporally, geographically, methodologically, and theoretically. For the study of both US Christianities and US Capitalisms, this is a must read. . . . Highly recommended."--Choice

"The Pew and the Picket Line is a useful addition to the recent literature that seeks to examine the historical interplay of religion and labor. What distinguishes this book from some others in the field is its focus on the working class itself--those in the pew--rather than leadership. The contributors' willingness to engage seriously with the religious beliefs of their subjects is to be commended, as well as their attention to race, gender, ethnicity, class, place, and denomination."--Labour/ Le Travail

"The Pew and the Picket Line is an example of a collection done right. With an outstanding introductory essay on the historiography of religion and labor by Cantwell, Carter, and Drake, along with cutting-edge research throughout the rest of the book, this collection should be essential reading for historians of American religion and labor."--Annals of Iowa

"Taken as a whole, the articles provide a rich sense of possibilities inherent in the cross-fertilization of labor and religious histories. For the social and cultural historian as well, this is a collection well worth reading."--Journal of American History

"Readers of all stripes will be pleased with the collection assembled by Cantwell, Carter, and Drake. Its essays are a valuable addition to the canon."--Fides et Historia

"These essays are a welcome addition to a burgeoning field of research. They are a wonderful starting point for examining that what happens between the pew and the picket line often occurs more so in the hearts of believers than in the precepts of religious leaders." --Journal of the Illinois State Historical Society
"This is a terrific collection. In treating the religious commitments of American working people seriously, it offers a more holistic perspective of these men and women that reflects their very humanity." --Nick Salvatore, author of Eugene V. Debs: Citizen and Socialist

"Fully attentive to the historical scholarship and political theory upon which the volume's scholarship builds, Cantwell, Carter, and Drake also take the necessary steps in their historiographical introduction to reopen all questions about how work, race, gender, ethnicity, region, and religion have intersected in the American past, and to suggest provocative new ones. The richly textured historical case studies that follow more than fulfill the agenda the editors set. This is a superb work of collective history by some of the most creative younger historians working on the subject today."--Robert Orsi, author of The Madonna of 115th Street: Faith and Community in Italian Harlem, 1880–1950

"The coeditors have assembled a tremendous and diverse team for this volume. Each essay is by itself a significant contribution, and some provide brilliant and pioneering analysis and the introduction is definitely the best historiographical overview, survey, and analysis of scholarship in the field that I have ever read. It sets the standard for the next generation of scholarship."--Paul Harvey, coauthor of The Color of Christ: The Son of God and the Saga of Race in America

"Navigating a wide spectrum of time and workspaces, racial and ethnic expressions, and blue-collar gospels, this brilliantly conceived and superbly executed volume demands that historians shift their gaze from the much examined corporate to under-scrutinized labor side of modern American Christianity and capitalism. Fifty years after its delivery, Herbert Gutman's plea for historians to take seriously the authentic and empowering qualities of working-class belief has finally been addressed, head on, with critical empathy and care, in an accessible manner. This is a timely and significant scholarly intervention." --Darren Dochuk, author of From Bible Belt to Sunbelt: Plain-folk Religion, Grassroots Politics, and the Rise of Evangelical Conservatism
---
To order online:
//www.press.uillinois.edu/books/catalog/69cnn8np9780252039997.html
To order by phone:
(800) 621-2736 (USA/Canada)
(773) 702-7000 (International)
Related Titles