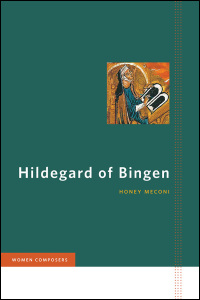 Hildegard of Bingen
Rediscovering the genius of the medieval composer, theologian, and visionary
A Renaissance woman long before the Renaissance, the visionary Hildegard of Bingen (1098–1179) corresponded with Europe's elite, founded and led a noted women's religious community, and wrote on topics ranging from theology to natural history. Yet we know her best as Western music's most accomplished early composer, responsible for a wealth of musical creations for her fellow monastics.
Honey Meconi draws on her own experience as a scholar and performer of Hildegard's music to explore the life and work of this foundational figure. Combining historical detail with musical analysis, Meconi delves into Hildegard's mastery of plainchant, her innovative musical drama, and her voluminous writings. Hildegard's distinctive musical style still excites modern listeners through wide-ranging, sinuous melodies set to her own evocative poetry. Together with her passionate religious texts, her music reveals a holistic understanding of the medieval world still relevant to today's readers.
---
"Meconi offers fresh insight into one of the most creative composers of her time." --WXXI

"Meconi does an excellent job of showing that Hildegard's chants are linked to late medieval repertory but are also distinctive and idiosyncratic. Highly recommended." --Choice

"The inspiring account offered in this book indeed sweeps the reader along into a skillfully told, fascinating life story." --Early Music

"Hildegard of Bingen is an excellent addition to English-language literature on Hildegard. . . will recommend it as a solid introduction to Hildegard as a composer to students, colleagues, friends, and early music enthusiasts alike." --Revue de musicologie

"Honey Meconi wears her erudition lightly, but her intellectual gravity and her knowledge of Hildegard and her world, as well as the relevant scholarly literature, are second to none." --Fontes Artis Musicae

"A fine introduction to anyone interested in Hildegard's music and a solid foundation for further reading, performing, and research." --Yale Journal of Music & Religion
"With her friendly, calm voice and measured pace, the author takes the reader on an interesting journey through the highlights of Hildegard's life and work. Meconi constructs a vividly imagined persona and life story that brings the medieval figure close to the modern reader."--Marianne Pfau, co-author of Hildegard von Bingen: Der Klang des Himmels

"If you think you already knew Hildegard, prepare to be enlightened. Honey Meconi's extensive scholarship puts Hildegard's life, music, and writings into clear historical context, concisely and blessedly free of academic jargon. Meconi doesn't just repeat what we know about the twelfth-century wonder woman. She describes how we know it, separates truth from fiction, and makes us understand why the music of Hildegard sounds like nothing and nobody else. With a detailed list of works, bibliography, notes and selected discography, this is the perfect go-to volume for a music director, teacher, student, singer, music lover, or Hildegard fan."--Susan Hellauer, Anonymous 4
Publication of this book is supported by the Margarita M. Hanson Endowment of the American Musicological Society, funded in part by the National Endowment for the Humanities and the Andrew W. Mellon Foundation.
---
To order online:
//www.press.uillinois.edu/books/catalog/69egf6cb9780252033155.html
To order by phone:
(800) 621-2736 (USA/Canada)
(773) 702-7000 (International)
Related Titles