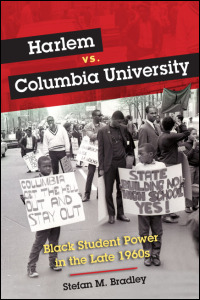 Harlem vs. Columbia University
Black Student Power in the Late 1960s
Awards and Recognition:
Received the Northeast Black Studies Association's inaugural Phillis Wheatley Prize, 2010.
A vigorous study of the black activism and civil disobedience that rocked the Ivy League in the 1960s
In 1968–69, Columbia University became the site for a collision of American social movements. Black Power, student power, antiwar, New Left, and Civil Rights movements all clashed with local and state politics when an alliance of black students and residents of Harlem and Morningside Heights openly protested the school's ill-conceived plan to build a large, private gymnasium in the small green park that separates the elite university from Harlem. Railing against the university's expansion policy, protesters occupied administration buildings and met violent opposition from both fellow students and the police.
In this dynamic book, Stefan M. Bradley describes the impact of Black Power ideology on the Students' Afro-American Society (SAS) at Columbia. While white students--led by Mark Rudd and Students for a Democratic Society (SDS)--sought to radicalize the student body and restructure the university, black students focused on stopping the construction of the gym in Morningside Park. Through separate, militant action, black students and the black community stood up to the power of an Ivy League institution and stopped it from trampling over its relatively poor and powerless neighbors.
Comparing the events at Columbia with similar events at Harvard, Cornell, Yale, and the University of Pennsylvania, Bradley locates this dramatic story within the context of the Black Power movement and the heightened youth activism of the 1960s. Harnessing the Civil Rights movement's spirit of civil disobedience and the Black Power movement's rhetoric and methodology, African American students were able to establish an identity for themselves on campus while representing the surrounding black community of Harlem. In doing so, Columbia's black students influenced their white peers on campus, re-energized the community's protest efforts, and eventually forced the university to share its power.
---
"An excellent analysis of how the black student protests at Columbia were fueled and supported by African Americans in the surrounding community."--The Journal of Blacks in Higher Education

"A valuable and long overdue addition to the historiography of 1960s student protest."--Labour/La Travail

"An important in-depth look at the racial dimensions of the Columbia student protest."--H-1960s

"Essential reading for anyone interested in student and community activism, university housing policies in urban areas, the Black Power and New Left movements, and U.S. history in the 1960s."--Journal of African American History

"Harlem vs. Columbia, helps to expand our conception of the Black Studies Movement; and allows broader questions to be asked about Black Student Power. . . . A useful contribution to the literature on the Black Power movement, student activism and the history of Black Studies."--Journal of African American Studies

"Bradley has done an admirable job in presenting an often overlooked movement at Columbia University and at a number of other Ivies."--H-Net Reviews
"This dramatic narrative effectively shows how black students at Columbia, even those from more privileged backgrounds, joined in an alliance of racial solidarity with Harlem's black working-class community. Bradley adds a new dimension to this story by emphasizing the actions and aspirations of the black students."--Wayne Glasker, author of Black Students in the Ivory Tower: African American Student Activism at the University of Pennsylvania, 1967–1990

"A powerful story that needs to be told. Bradley places the student movement at Columbia in the 1960s within the larger context of local black politics and concerns, exploring the links between campus activism, community protest, and public policy."--Leonard N. Moore, author of Carl B. Stokes and the Rise of Black Political Power
---
To order online:
//www.press.uillinois.edu/books/catalog/69erx5xt9780252034527.html
To order by phone:
(800) 621-2736 (USA/Canada)
(773) 702-7000 (International)
Related Titles