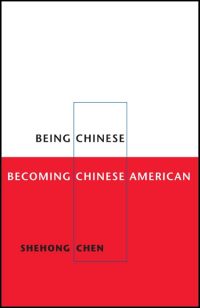 Being Chinese, Becoming Chinese American
In this foundational study, Shehong Chen investigates how Chinese immigrants to the United States transformed themselves into Chinese Americans during the crucial period between 1911 and 1927. As the search for a modern China climaxed in the 1911 revolution in China, debates over reform and revolution politicized and divided Chinese communities in the United States. In the early 1910s, Chinese in the United States affirmed traditional Chinese values and expressed their unique visions of a modern China, while nationalist feelings emboldened them to stand up for their right to be regarded as an integral part of U.S. society. When the new Chinese republic faced its first serious threat from Japan in 1915, the Chinese response in the United States began to reveal the limits of Chinese nationalism and the emergence of a Chinese American identity.
Chen discerns the crystallization of four essential elements of a distinct Chinese American identity in the years between 1916 and 1924: support for republicanism over the restoration of monarchy; a wish to preserve Confucianism and traditional Chinese culture, although both were under attack in China; support for Christianity, despite a strong anti-Christian movement in China; and opposition to the Nationalist party's alliance with the Soviet Union and cooperation with the Chinese Communist party.
Chen derives her portrait of Chinese in the United States from three distinct daily Chinese-language newspapers: a reformist paper representing the U.S. Chinatown elite, a revolutionary paper founded by the nationalist Chinese leader Sun Yat-sen, and an assimilationist paper that advocated adapting Chinese cultural practices to life in the United States. In addition to identifying the ideological elements of the Chinese American identity, Chen documents the building of permanent Chinese American communities, or Chinatowns.
Sensitively distinguishing the essence of being Chinese in the United States from being Chinese in the People's Republic of China, Chen documents how Chinese immigrants survived exclusion and discrimination, envisioned and maintained Chineseness, and adapted to American society.
---
"Chen's groundbreaking examination of the birth of a Chinese American identity is rich in detail and provides a vivid picture of the difficult historical circumstances that Chinese immigrants faced and the creative ways they fought for their rights in a strange land that eventually would become their home. This book is certain to become a classic in its field."--Asian Affairs

"Offers a fascinating portrait of Chinese America."--The Historian
"Once I started reading this book, I could not put it down. . . . Shehong Chen has accurately portrayed the dynamics of the factors involved in the transformation of the Chinese American identity."--Sue Fawn Chung, professor of history at the University of Nevada at Las Vegas
---
To order online:
//www.press.uillinois.edu/books/catalog/69xsb9wf9780252073892.html
To order by phone:
(800) 621-2736 (USA/Canada)
(773) 702-7000 (International)
Related Titles