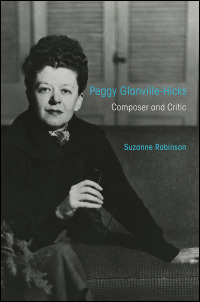 Peggy Glanville-Hicks
Composer and Critic
A unique woman's unstoppable journey to the center of American music
As both composer and critic, Peggy Glanville-Hicks contributed to the astonishing cultural ferment of the mid-twentieth century. Her forceful voice as a writer and commentator helped shape professional and public opinion on the state of American composing. The seventy musical works she composed ranged from celebrated operas like Nausicaa to intimate, jewel-like compositions created for friends. Her circle included figures like Virgil Thomson, Paul Bowles, John Cage, and Yehudi Menuhin.
Drawing on interviews, archival research, and fifty-four years of extraordinary pocket diaries, Suzanne Robinson places Glanville-Hicks within the history of American music and composers. "P.G.H."—affectionately described as "Australian and pushy"—forged alliances with power brokers and artists that gained her entrance to core American cultural entities such as the League of Composers, New York Herald Tribune, and the Harkness Ballet. Yet her impeccably cultivated public image concealed a private life marked by unhappy love affairs, stubborn poverty, and the painstaking creation of her artistic works.
Evocative and intricate, Peggy Glanville-Hicks clears away decades of myth and storytelling to provide a portrait of a remarkable figure and her times.
---
"Robinson is especially good at making period and place come alive for the reader. The book should richly reward any reader who wants to explore American musical and literary history in this period--and the people who made it and lived it." --American Record Guide

"Robinson's warm and authoritative prose is elegant, clear and engaging, and her scholarly rigour unpacking the multiple narratives Glanville-Hicks constructed around herself makes for absolutely fascinating reading." --Limelight
"Filling a huge canvas with immersive detail and impressive new research, Suzanne Robinson places an Australian-born woman in New York City at the very center of American music and modernism in the 1950s–60s. As Peggy Glanville-Hicks scrambled to earn a living as a composer through hard work, raw talent, persistence and wit, she became a discerning critic and indispensable colleague of Virgil Thomson at the New York Herald Tribune. Receptive both to the new experimental music and to ancient folk idioms of India and Greece, she delighted in creating music of textural simplicity, stylistic diversity, melodic elegance and charm, especially in songs and operas (notably Nausicaa, The Transposed Heads, and Sappho). Robinson tells the story of a musical maverick and feminist pioneer: shrewd and snarly, secretive and demanding, yet loyal in love and friendship with fellow artists like Paul Bowles, John Butler, Anais Nin, and Yehudi Menuhin. No one interested in American and Australian music and feminism will be without this fascinating book."--Elizabeth Wood, coeditor of Queering the Pitch: The New Gay and Lesbian Musicology
Publication of this book was supported in part by grants from the Henry and Edna Binkele Classical Music Fund; the H. Earle Johnson Fund of the Society for American Music; and the Manfred Bukofzer Endowment of the American Musicological Society, funded in part by the National Endowment for the Humanities and the Andrew W. Mellon Foundation.
---
To order online:
//www.press.uillinois.edu/books/catalog/72fxc8bc9780252042560.html
To order by phone:
(800) 621-2736 (USA/Canada)
(773) 702-7000 (International)
Related Titles