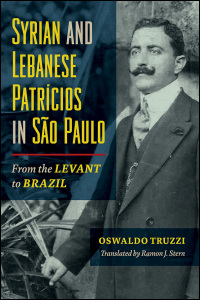 Syrian and Lebanese Patrícios in São Paulo
From the Levant to Brazil
Awards and Recognition:
• Evelyn Shakir Non-Fiction Award, Arab American National Museum, 2019
The untold story of a Brazilian immigrant community
Syrian and Lebanese immigrants to Brazil chose to settle in urban areas, a marked contrast to many other migrant groups. In São Paulo, these newcomers embraced new lives as merchants, shopkeepers, and industrialists, making them a dominant force in the city's business sector.
Oswaldo Truzzi's original work on these so-called patrícios changed the face of Brazilian studies. Now available in an English translation, Truzzi's pioneering book identifies the complex social paths blazed by Syrian and Lebanese immigrants and their descendants from the 1890s to the 1960s. He considers their relationships to other groups within São Paulo's kaleidoscopic mix of cultures. He also reveals the differences--real and perceived--between Syrians and Lebanese in terms of religious and ethnic affinities and in the economic sphere. Finally, he compares the two groups with their counterparts in the United States and looks at the wave of Lebanese Muslims to São Paulo that began in the 1960s.
"This book makes a seminal contribution by putting Arabs on the map of Brazilian studies. Truzzi's attention to historical and sociological detail is impeccable in the mercantile trajectories of Syrian and Lebanese immigrants. The prose flows, the small vignettes are memorable, and the occasional statistic priceless."--John Tofik Karam, author of Another Arabesque: Syrian-Lebanese Ethnicity in Neoliberal Brazil

"Syrian and Lebanese Patrícios in São Paulo tackles classic themes in immigration studies. With a focus on different forms of labor integration including peddling, shop ownership, and industrial entrepreneurship, Oswaldo Truzzi provides new perspectives for analyzing ethnicity in Latin America."--Jeffrey Lesser, author of Immigration, Ethnicity, and National Identity in Brazil, 1808 to the Present
---
To order online:
//www.press.uillinois.edu/books/catalog/72hhw8dx9780252041952.html
To order by phone:
(800) 621-2736 (USA/Canada)
(773) 702-7000 (International)
Related Titles