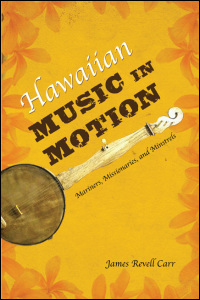 Hawaiian Music in Motion
Mariners, Missionaries, and Minstrels
Awards and Recognition:
• Co-winner of the Allan Merriam Prize, Society for Ethnomusicology, 2015
The performance, reception, and transmission of Hawaiian music in the nineteenth century
Hawaiian Music in Motion explores the performance, reception, transmission, and adaptation of Hawaiian music on board ships and in the islands, revealing the ways both maritime commerce and imperial confrontation facilitated the circulation of popular music in the nineteenth century. James Revell Carr shows how Hawaiians initially used music and dance to ease tensions with, and spread information about, potentially dangerous foreigners, and then traces the circulation of Hawaiian song and dance worldwide as Hawaiians served aboard American and European ships.
Drawing on journals and ships' logs, Carr highlights the profound contrasts between Hawaiians' treatment by fellow sailors who appreciated their seamanship and music, versus antagonistic American missionaries determined to keep Hawaiians on local sugar plantations, and looks at how Hawaiians achieved their own ends by capitalizing on Americans' conflicting expectations and fraught discourse around hula and other musical practices. He also examines American minstrelsy in Hawaii, including professional touring minstrel troupes from the mainland, amateur troupes consisting of crew members of visiting ships, and local indigenous troupes of Hawaiian minstrels. In the process he illuminates how a merging of indigenous and foreign elements became the new sound of native Hawaiian culture at the turn of the twentieth century--and made loping rhythms, falsetto yodels, and driving ukuleles indelible parts of American popular music.
---
"This book asks readers to consider the significance of music in maritime cultural exchanges, and it offers new perspectives for considering the long-standing influence of Hawaiians and Hawaiian music internationally. . . . These are stories in need of telling and a past that merits a deeper listening."--The Journal of Pacific History

"Carr's work demonstrates that historians have much to gain by studying the nineteenth century mariner's and musicians, Hawaiian and non-Hawaiian alike, as well as their globally resonant cultural impact that rippled in their wake."--American Historical Review

"Hawaiian Music in Motion: Mariners, Missionaries, and Minstrels is a noteworthy contribution to the growing discipline of historical ethnomusicology, a thoroughly researched monograph that considers Hawaiian music on its own terms -- at home on the islands, abroad ports of call, and in transit over the nineteenth-century seaways."Journal of Folklore Research

"James Revell Carr contributes to the diversity of perspectives for understanding Hawaiian music and expressive culture. His study positions the Hawaiian experience as one of mutual interaction with the Anglophone world and constitutes a welcome historical resource for specialists in American music, ethnomusicology, dance ethnology, Hawaiian studies, American studies, culture studies, performance studies, and ethnic studies."--American Music

"Hawaiian Music in Motion is an important contribution to our understanding of the effects of outside influences on Hawaiian music and dance."--Journal of the Society for American Music

"Hawaiian Music in Motion is an archival tour de force, an invaluable addition to a growing body of literature. . . that examines Pacific intercultural encounter through the lens of performance."--Ethnomusicology
"The scope of this [book] is without precedent in existing scholarship on nineteenth-century musical cultures. . . . His research has uncovered a rich array of new documentary evidence from primary sources, and the narrative engages in a close examination of the interpretive opportunities and limits of this evidence."--Amy Ku'uleialoha Stillman, University of Michigan

"This work is fascinating as it offers a more complicated history of the region than the one offered in current historical studies by focusing on the ways in which a segment of the global workforce forged their own understandings of the wider world and negotiated their position in the cosmopolitan sea-going and theatrical worlds of the nineteenth century. This is a story that very much needs to be told."--Gillian M. Rodger, author of Champagne Charlie and Pretty Jemima: Variety Theater in the Nineteenth Century
Publication supported by a grant from the L. J. and Mary C. Skaggs Folklore Fund. Publication supported by the AMS 75 PAYS Endowment of the American Musicological Society, funded in part by the National Endowment for the Humanities and the Andrew W. Mellon Foundation.
---
To order online:
//www.press.uillinois.edu/books/catalog/72qps8ms9780252038600.html
To order by phone:
(800) 621-2736 (USA/Canada)
(773) 702-7000 (International)
Related Titles