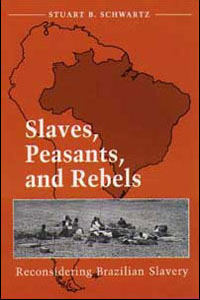 Slaves, Peasants, and Rebels
Reconsidering Brazilian Slavery
The award-winning historian Stuart Schwartz offers revisionist views of some of the most controversial issues related to Brazilian slavery, in a book that will be of special interest to all historians of Brazil and of slavery in the Americas. He notes that the study of slavery has dropped its apparent preoccupation with the economic system, shifting to a concern with the nature of slave life and community. Schwartz argues, however, that this new ethnography must always be seen in the context of slavery as an oppressive social and economic system. His introductory section reviews major trends and works on Brazilian slavery in recent scholarship.
Schwartz demonstrates the complexity of the slave system through a reconsideration of the themes of work, resistance, kinship, and relations between slaves and peasants. He provides new insights on the shifting power relationship between slaves and masters that constantly reshaped the contours of the country's society.
Central to the volume is the role slaves played in shaping their own lives and in the construction and operation of the Brazilian slave system. Slaves were not independent historical actors able to mold their own destiny, but masters were limited, too, sometimes by the actions and attitudes of slaves.
---
"Reconsiders the critical issues of how the Brazilian slave system operated, how it coexisted with a parallel system of agriculture based on free labor, and by what means African and Afro-Brazilian slaves acted to shape their own lives. . . . A coherent and highly challenging overview of one of the most important questions about Brazil's past. Handsomely printed and thoroughly documented."--Choice

"Of interest to all concerned with the human interactions under nonfree--as well as free--labor systems and those involved with the historical study of slavery and slave societies."--Stanley L. Engerman, Annals of the American Academy of Political and Social Science

"A powerful volume."--Roy Arthur Glasgow, International Journal of African Historical Studies

"Graduate students will find it indispensable."--George Reid Andrews, American Historical Review

"A welcome addition to the debates on slavery. . . . Will be of interest to specialists, students, and interested laypeople."--Murici Nazzari, Slavery and Abolition

A volume in the series Blacks in the New World, edited by August Meier and John H. Bracey
---
To order online:
//www.press.uillinois.edu/books/catalog/72ydh3ba9780252065491.html
To order by phone:
(800) 621-2736 (USA/Canada)
(773) 702-7000 (International)
Related Titles