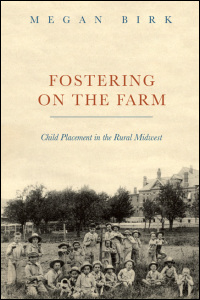 Fostering on the Farm
Child Placement in the Rural Midwest
Awards and Recognition:
• Vincent De Santis First Book Prize, Society for Historians of the Gilded Age and Progressive Era (SHGAPE), 2017
Shedding light on a somber chapter in the history of American childhood
From 1870 until after World War I, reformers led an effort to place children from orphanages, asylums, and children's homes with farming families. The farmers received free labor in return for providing room and board. Reformers, meanwhile, believed children learned lessons in family life, citizenry, and work habits that institutions simply could not provide.
Drawing on institution records, correspondence from children and placement families, and state reports, Megan Birk scrutinizes how the farm system developed--and how the children involved may have become some of America's last indentured laborers. Between 1850 and 1900, up to one-third of farm homes contained children from outside the family. Birk reveals how the nostalgia attached to misplaced perceptions about healthy, family-based labor masked the realities of abuse, overwork, and loveless upbringings endemic in the system. She also considers how rural people cared for their own children while being bombarded with dependents from elsewhere. Finally, Birk traces how the ills associated with rural placement eventually forced reformers to transition to a system of paid foster care, adoptions, and family preservation.
---
"Birk forcefully describes the power of ideology and its tragic consequences, using institution records, newspapers, and reformers' publications. Recommended."--Choice

"A richly detailed picture of child welfare in the period from 1870 to the Great Depression. The study's timeframe captures a significant period in the history of child welfare policy, while its geographical boundaries allow the author to examine the ground-level practices that resulted from those policies. . . . An informative, interesting, and well-researched book that merits attention from historians in a broad range of fields."--Michigan Historical Review

"A complicated story that Megan Birk details meticulously. . . . Fostering on the Farm describes the evolution of rural free foster care with precision and clarity, no small achievement when dealing with a phenomenon so disordered."--American Historical Review

"Birk's book combines social and policy history, as the best works of social welfare history do, and it weaves the disparate stories of policy makers and advocates, volunteers and staff, and families and children across a variety of settings and periods into an organic whole. . . . The result is a rich historical case that illustrates the complex, interlocking, and multitiered mechanisms of social change."--Social Service Review

"Fostering on the Farm is particularly strong in its study of the rise of state agencies, state laws dealing with dependent children, the role of judges, and the influence of Progressive-era reformers at the federal level. . . . What it says about the Midwest is applicable to Kansas and other states west of the Mississippi where farm placement of children was common, child indenture was acceptable, and welfare practices came under greater scrutiny during the early 1900s."--Kansas History

"Birk's work closes important gaps in the historiography of dependent and orphaned children. . . . Overall, Birk's work on the rise and fall of farm placement demonstrates solid scholarship and a unique perspective of the development of fostering."--Agricultural History

"Birk makes a strong case for the significance of midwestern rural placement to the development of modern child welfare policies. Her study also raises questions about local placements within other regions of the country. . . . This book will be welcomed by scholars with an interest in the proto-welfare state, in childhood history, and in rural studies." --The Journal of American History

"Birk offers a well-reasoned, balanced assessment. . . . Those who are interested in the history of childhood, family, welfare policy, or rural America will especially appreciate this substantial book."--Journal of Illinois History

"In Fostering on the Farm, Megan Birk offers an intertwined history of agrarian ideals and child welfare policy that is both sweeping and steeped in detail. . . . This book should not be missed."--Annals of Iowa

"Meticulously researched, Fostering on the Farm complicates the history of dependent child placement and provides insight into the ways that local and state efforts informed twentieth-century federal child welfare policy."--Journal of the History of Childhood and Youth
"Provides an important window into social welfare policy and rural history. Contributes to the slow but ever-increasing interest into rural childhood."--Kathleen Mapes, author of Sweet Tyranny: Migrant Labor, Industrial Agriculture, and Imperial Politics

"This book explains a particularly important set of transitions in America's social history. . . . Megan Birk's book is required reading for all scholars interested in understanding rural America, child welfare, and the Gilded Age and Progressive Era."--Pamela Riney-Kehrberg, author of Childhood on the Farm: Work, Play and Coming of Age in the Midwest
---
To order online:
//www.press.uillinois.edu/books/catalog/73qkm3sh9780252039249.html
To order by phone:
(800) 621-2736 (USA/Canada)
(773) 702-7000 (International)
Related Titles