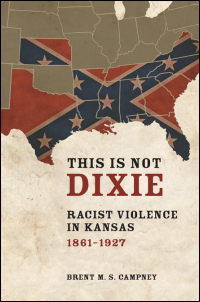 This Is Not Dixie
Racist Violence in Kansas, 1861-1927
Awards and Recognition:
• Jan Garton Prairie Heritage Book Award, Prairie Heritage, Inc., 2017
• A Choice Outstanding Academic Title, 2016
Imposing, enforcing, and resisting white supremacy in the Midwest
Often defined as a mostly southern phenomenon, racist violence existed everywhere. Brent M. S. Campney explodes the notion of the Midwest as a so-called land of freedom with an in-depth study of assaults both active and threatened faced by African Americans in post–Civil War Kansas.
Campney's capacious definition of white-on-black violence encompasses not only sensational demonstrations of white power like lynchings and race riots, but acts of threatened violence and the varied forms of pervasive routine violence--property damage, rape, forcible ejection from towns--used to intimidate African Americans. As he shows, such methods were a cornerstone of efforts to impose and maintain white supremacy. Yet Campney's broad consideration of racist violence also lends new insights into the ways people resisted threats. African Americans spontaneously hid fugitives and defused lynch mobs while using newspapers and civil rights groups to lay the groundwork for forms of institutionalized opposition that could fight racist violence through the courts and via public opinion.
Ambitious and provocative, This Is Not Dixie rewrites fundamental narratives on mob action, race relations, African American resistance, and racism's grim past in the heartland.
---
"A significant contribution to the field of racial violence and the understanding of the history of Kansas in the post–Civil War period. . . . This Is Not Dixie secures the University of Illinois Press's dominance as a publisher of scholarship on racial violence in the post–Civil War era. Highly recommended."--Choice

"When discussing lynching, race riots, and other forms of racist violence in the late nineteenth and early twentieth centuries, the emphasis often turns southward. Brent Campney's This Is Not Dixie builds on current historiography by challenging these assumptions. . . . This work provides timely insights into racist violence in the North."--Civil War Book Review

"Campney has written an amazing and profound book that challenges many assumptions regarding racist violence in America, putting both the Midwest and the South in a deeper, richer context. This Is Not Dixie will no doubt inspire similar state-level studies."--Journal of Southern History

"Campney's book is an important corrective to the still prevailing belief that racial violence was a uniquely southern problem."--The Annals of Iowa

"Campney exposes the shameful extent of violence in our past and also highlights the episodes of actions against such violence by law enforcement officers and by the African American community. Others should follow his lead to rediscover the world of law, race, and violence that shaped the past and continues to shape the present."--American Historical Review

"A groundbreaking book, its extensive Kansas data and its inclusion of "threatened" lynching as a potent factor being important contributions to the study of racist violence in America."--Middle West Review

"This book is essential reading for those interested in the history of Kansas or of race relations in the Great Plains, as well as for scholars of racial violence and the black freedom struggle in the United States."--Great Plains Quarterly

"A potent portrait of dramatically unequal but also complicated, highly contested, and geographically fragmented racial power relations in one Midwestern state during the rise and consolidation of the Jim Crow era." --Journal of African American History

"Campney has written a persuasive and important book that rewrites the racial narrative of Kansas and challenges the periodization of numerous eras. Additionally he makes a compelling case that a broad paradigm of racial violence is preferable to a narrow focus on lynching." --Reviews in American History
"This is Not Dixie exponentially expands our understanding of racist violence in the Midwest and in so doing fills out the national picture and puts the South in greater context. Deeply attentive to African American resistance to white violence, this landmark book is required reading for all interested in the sadly pivotal role of racist violence in America's past."--Michael J. Pfeifer, author of The Roots of Rough Justice: Origins of American Lynching

"Part of a new wave of scholarship that broadens our examination of racial violence. This book is an important contribution to lynching studies and African American history and to the history of the Midwest. The scholarship is top notch."--William D. Carrigan, author of The Making of a Lynching Culture: Violence and Vigilantism in Central Texas, 1836-1916

"Campney's focus on Kansas provides new and important evidence of the extent of racist violence in a non-Southern state. This is the rare book that does far more than add to the cumulative knowledge in an area of study. It challenges underlying assumptions, takes new perspectives on the material, and opens new lines of inquiry in several areas."--Margaret Vandiver, author of Lethal Punishment: Lynchings and Legal Executions in the South
Publication of this book made possible in part by a grant from the University of Texas-Rio Grande Valley (formerly the University of Texas-Pan American).
---
To order online:
//www.press.uillinois.edu/books/catalog/74dhh3pw9780252039508.html
To order by phone:
(800) 621-2736 (USA/Canada)
(773) 702-7000 (International)
Related Titles
previous book
next book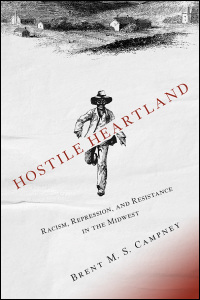 Hostile Heartland
Racism, Repression, and Resistance in the Midwest
Brent M. S. Campney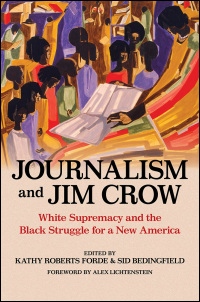 Journalism and Jim Crow
White Supremacy and the Black Struggle for a New America
Edited by Kathy Roberts Forde and Sid Bedingfield