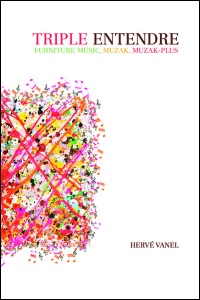 Triple Entendre
Furniture Music, Muzak, Muzak-Plus
Awards and Recognition:
• Certificate of Merit for Best Historical Research on General Recording Topics, Association for Recorded Sound Collections (ARSC), 2014
Listening to music that isn't there
Triple Entendre discusses the rise and spread of background music in contexts as diverse as office workplaces, shopping malls, and musical performance. Hervé Vanel examines background music in several guises, beginning with Erik Satie's "Furniture Music" of the late 1910s and early 1920s, which first demonstrated the idea of a music not meant to be listened to and was later considered a precedent to modern, functional background music. Vanel argues that when the Muzak Corporation's commercialized ambient music became a predominant feature of modern life in the 1940s--both as a brand and a genre of background music--it also became a powerful instrument of social engineering in an advanced capitalist society. Different kinds of music were developed to encourage or incite greater productivity in the workplace, more energetic shopping, or more animated socializing.
Vanel's discussion culminates in the creative response of the composer John Cage to the pervasiveness and power of background music in contemporary society. Cage neither opposed nor rejected Muzak, but literally answered its challenge by formulating a parallel concept that he called "Muzak-Plus." Forty years after Satie presented his work to general critical puzzlement, Cage saw how background music could be combined with mid-century technology and theories of art and performance to create a participatory soundscape on a scale that Satie could not have envisioned, again reconfiguring the listener's stance to music. By examining the subterranean connections existing between these three formulations of a singular idea, Triple Entendre analyzes and challenges the crucial boundary that separates an artistic concept from its actual implementation in life.
---
"If you have any interest in the relation between what is and what is not, (what is/is not music, creativity, but much more than that), if the boundaries between theory and public practice are too rigid for you (or too fuzzy to see) or if you don't know much about music but know what you like, then you will greatly profit from reading this book, as your surprised and delighted reviewer did."--Leonardo Reviews
"This wonderfully provocative book places the tradition of 'background music' or 'environmental music' such as Muzak into a distinctly modern perspective. A sharp interdisciplinary study that makes connections between the popular and the avant-garde."--Tim J. Anderson, author of Making Easy Listening: Material Culture and Postwar American Recording
---
To order online:
//www.press.uillinois.edu/books/catalog/74zqk2em9780252037993.html
To order by phone:
(800) 621-2736 (USA/Canada)
(773) 702-7000 (International)
Related Titles