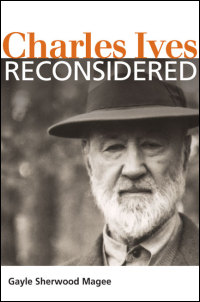 Charles Ives Reconsidered
Awards and Recognition:
A Choice Outstanding Academic Title, 2009
An engaging reassessment of the seminal American composer
Charles Ives Reconsidered reexamines a number of critical assumptions about the life and works of this significant American composer, drawing on many new sources to explore Ives's creative activities within broader historical, social, cultural, and musical perspectives. Gayle Sherwood Magee offers the first large-scale rethinking of Ives's musical development based on the controversial revised chronology of his music. Using as a guide Ives's own dictum that "the fabric of existence weaves itself whole," Magee portrays Ives's life, career, and posthumous legacy against the backdrop of his musical and social environments from the Gilded Age to the present. The book includes contemporary portraits of the composer, his peers, and his teachers, as seen through archival materials, published reviews, and both historical and modern critical assessments.
---
"This is in every way an exemplary interpretive study of Ives's aesthetic and compositional career as considered against the background of his biography. . . . A first-rate exposition of current knowledge and thinking about Ives, and Magee's own views are a welcome contribution. Essential."--Choice

"Magee's book is a model of contemporary musicology, sympathetically sober in its judgments and interdisciplinary in its methods."--The Nation

"Magee's provocative and insightful new biography of Charles Ives examines the man, his legend, his music, and its reception. An important work."--Journal of the Society for American Music

"Anyone looking for new windows into the life of this unique composer will find here a rich source, clearly written and abundantly illustrated with photos and copies of musical transcripts."--American Record Guide

"'Reconsidered' is exactly the word here. Magee takes on the idolators and the revisionists with equal vigour, and in doing so, restores Charles Ives to a more nuanced and realistic place in the American canon: a man of his times, to be sure, but also an artist who continued to evolve and create. . . . Magee hasn't just written a very good book about Ives, but a very good book about what Harold Bloom calls 'the anxiety of influence.'"--The Wire

"This informed study deftly separates facts about Ives, the composer and man, from mere conjecture."--The Star-Ledger
"At once assiduously researched and passionately engaged, Gayle Sherwood Magee's book clears away many of the hoary myths that have long surrounded Charles Ives. What emerges is a picture not of an isolated visionary but of an artist keenly and cannily aware of the currents of his time, both musical and political. The man himself roars off the page--proud, prickly, contradictory, more than a little troubled, but moving implacably toward a towering musical goal."--Alex Ross, music critic for The New Yorker and author of The Rest is Noise: Listening to the Twentieth Century

"Accessible, insightful, and filled with new information and original perspectives, Charles Ives Reconsidered will be appreciated by seasoned Ivesians and young initiates alike. Magee demonstrates that there is still more to learn about this enigmatic and thoroughly human creative spirit."--Denise Von Glahn, author of The Sounds of Place: Music and the American Cultural Landscape

"In clean, confident prose, Magee has given us a persuasive new account of Ives's life and work, nicely reassessing the dates of his manuscripts and, more important, the far-flung influences that guided his style."--Michael Hicks, author of Henry Cowell, Bohemian
---
To order online:
//www.press.uillinois.edu/books/catalog/75hbk8fb9780252033261.html
To order by phone:
(800) 621-2736 (USA/Canada)
(773) 702-7000 (International)
Related Titles