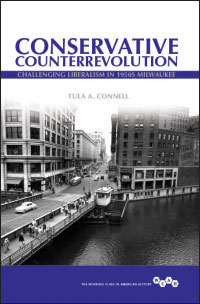 Conservative Counterrevolution
Challenging Liberalism in 1950s Milwaukee
A forceful account of right-wing opposition to the postwar New Deal
In the 1950s, Milwaukee's strong labor movement and socialist mayor seemed to embody a dominant liberal consensus that sought to expand the New Deal. Tula A. Connell explores how business interests and political conservatives arose to undo that consensus, and how the resulting clash both shaped a city and helped redefine postwar American politics.
Connell focuses on Frank Zeidler, the city's socialist mayor. Zeidler's broad concept of the public interest at times defied even liberal expectations. At the same time, a resurgence of conservatism with roots presaging twentieth-century politics challenged his initiatives in public housing, integration, and other areas. As Connell shows, conservatives created an anti-progressive game plan that included a well-funded media and PR push; an anti-union assault essential to the larger project of delegitimizing any government action; opposition to civil rights; and support from a suburban silent majority. In the end, the campaign undermined notions of the common good essential to the New Deal order. It also sowed the seeds for grassroots conservatism's more extreme and far-reaching future success.
A forceful account of postwar urban politics, Conservative Counterrevolution reveals how historical trends often documented at the national level first played out on the ground in a great American city.
---
"A history that has been hiding in plain sight. . . . Connell's book is a vital study of the roots of modern American conservatism."--In These Times

"The story Connell tells is eerily relevant. . . . Tula Connell has written an important work. This is an outstanding piece of historical research, and should serve as a model for those interested in municipal history in all its nuances."--The Independent Scholar

"Connell's account is readable and sound. Recommended." --Choice

"Conservative Counterrevolution is an essential volume of Milwaukee history."--Shepherd Express

"This book provides valuable background for labor educators and those in the labor studies field. . . . The themes and elements of this case study narrative contain clear and discussion-worthy connections to larger historical trends and forces in U.S. society that are immensely relevant today."--Labor Studies Journal

"This fine book deserves a wide readership."--American Historical Review

"Tula Connell has written an excellent overview of the political and social history of 1950s Milwaukee. . . . The book is well-researched and well-written and would be effective in an undergraduate or graduate class. This author should be lauded for her attention on the 1940s and 1950s."--Michigan Historical Review
"Conservative Counterrevolution will make a significant impact upon the historical profession and the public at large. This is a great book."--Andrew E. Kersten, author of Clarence Darrow: American Iconoclast

"Tula Connell's gripping account of postwar Milwaukee shows how intertwined the fates of New Deal liberalism, modern conservatism, and trade unionism were. A must read for anyone interested in understanding the origins of the recent Wisconsin protests and Scott Walker's popularity." --Elizabeth Tandy-Shermer, author of Sunbelt Capitalism: Phoenix and the Transformation of American Politics
---
To order online:
//www.press.uillinois.edu/books/catalog/75wfg8we9780252039904.html
To order by phone:
(800) 621-2736 (USA/Canada)
(773) 702-7000 (International)
Related Titles