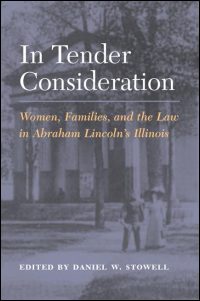 In Tender Consideration
Women, Families, and the Law in Abraham Lincoln's Illinois
Awards and Recognition:
Recipient of an Illinois State Historical Society Award of Superior Achievement, 2003.
From debt to divorce, from adultery to slander, cases with women as plaintiffs, defendants, or both appeared regularly on docket books in antebellum Illinois. Nearly one-fifth of Abraham Lincoln's cases involved women as litigants, and during the twenty-five years of his legal career thousands of women appeared in Illinois courts, as litigants, criminal defendants, witnesses, and spectators.
Drawing on the rich resources of The Law Practice of Abraham Lincoln: Complete Documentary Edition, a DVD version of Lincoln's complete legal papers, In Tender Consideration scans the full range of family woes that antebellum Americans took to the law. Deserted wives, destitute widows, jilted brides with illegitimate children, and slandered women brought their cases before the courts, often receiving a surprising degree of sympathy and support.
Through the stories of dozens of individuals who took legal action to obtain a divorce, contest a will, prosecute a rapist, or assert rights to family property, this volume illuminates the legal status of women and children in Illinois and their experiences with the law in action. Contributors document how the courts viewed children and how they responded to inheritance, custody, and other types of cases involving children or their interests. These cases also highlight Lincoln's life in law, placing him more clearly within the context of the legal culture in which he lived and raising intriguing questions about the influence of his legal life on his subsequent political one.
---
"Taken together, the essays contribute to grounding Lincoln in time and place. They also contribute to a considerably more precise understanding of how private citizens managed their relationships with the state and the social order in the first half of the nineteenth century."--Linda K. Kerber, author of No Constitutional Right to Be Ladies: Women and the Obligations of Citizenship

"Daniel Stowell has compiled a captivating collection of essays that illuminate the complexity of the field of family law that was emerging in antebellum Illinois. . . . This fascinating and ambitious project succeeds at every level and reflects the tremendous potential of the historian's craft skillfully employed."--The Annals of Iowa
"Taken together, the essays contribute to grounding Lincoln in time and place. They also contribute to a considerably more precise understanding of how private citizens managed their relationships with the state and the social order in the first half of the nineteenth century."--Linda K. Kerber, author of No Constitutional Right to Be Ladies: Women and the Obligations of Citizenship
---
To order online:
//www.press.uillinois.edu/books/catalog/76bkt4py9780252073397.html
To order by phone:
(800) 621-2736 (USA/Canada)
(773) 702-7000 (International)
Related Titles