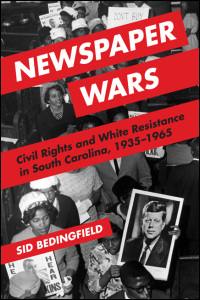 Newspaper Wars
Civil Rights and White Resistance in South Carolina, 1935-1965
Awards and Recognition:
• George C. Rogers Jr. Award, South Carolina Historical Society, 2018
How journalists enlisted on both sides of the mid-century struggle
Against all odds, the seeds of social change found purchase in mid-twentieth century South Carolina. Newspaperman John McCray and his allies at the Lighthouse and Informer challenged readers to "rebel and fight"--to reject the "slavery of thought and action" and become "progressive fighters" for equality.
Newspaper Wars traces the role journalism played in the fight for civil rights in South Carolina from the 1930s through the 1960s. Moving the press to the center of the political action, Sid Bedingfield tells the stories of the long-overlooked men and women on the front lines of a revolution. African American progress sparked a battle to shape South Carolina's civic life, with civil rights activists arrayed against white journalists determined to preserve segregation through massive resistance. As that strategy failed, white newspapers turned to overt political action and crafted the still-prevalent narratives that aligned southern whites with the national conservative movement.
A fascinating portrait of a defining time, Newspaper Wars analyzes the role journalism played--and still can play--during times of social, cultural, and political change.
---
"This well-written, deeply contextualized book is as much a political history of South Carolina as it is an examination of race and journalism. . . . A commendable study that advances knowledge of the southern press in the civil rights era."--American Journalism

"Newspaper Wars is a strong, important study of black journalism, state-level organizing, and the role that journalists play in shaping the assumptions of the public sphere, assumptions that conditioned the discussions that created civil rights success in South Carolina." --The Journal of American History

"Newspaper Wars: Civil Rights and White Resistance in South Carolina, 1935-1965 not only remedies a lack of scholarship on the press in South Carolina but also shows how newspapers shaped the course of social and political change." --The Journal of Southern History

"Newspaper Wars is a timely book that brings traditionally marginal figures to the fore." --American Historical Review

"This work is a valuable contribution that expresses how the minute can explain the whole and civil rights began as a grassroots movement, propagated by the influence of African American newspapers, and expanded in several places concomitantly as African Americans began to reclaim the rights that had been denied to them for so long." --Journal of African American History
"Very well written and enjoyable to read. Journalists, Sid Bedingfield persuasively demonstrates, did not just document the civil rights movement in South Carolina, but rather they actively influenced its course and outcomes."--Michael Stamm, author of Sound Business: Newspapers, Radio, and the Politics of New Media

"Sid Bedingfield offers a brilliantly fresh account of the peak decades of the civil rights movement--a time when newspapers shaped the contours of civic discourse and political debate. More than an essential history of the civil rights movement in South Carolina, Newspaper Wars recasts our understanding of the civil rights era and the enduring struggles around race and citizenship."--Patricia Sullivan, author of Lift Every Voice: The NAACP and the Making of the Civil Rights Movement
---
To order online:
//www.press.uillinois.edu/books/catalog/76dnh4dc9780252041228.html
To order by phone:
(800) 621-2736 (USA/Canada)
(773) 702-7000 (International)
Related Titles