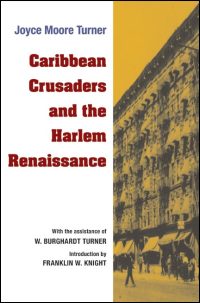 Caribbean Crusaders and the Harlem Renaissance
Awards and Recognition:
A CHOICE Outstanding Academic Title, 2006.
Artists, activists, and the development of international radicalism in Harlem
Joyce Moore Turner's Caribbean Crusaders and the Harlem Renaissance is a study of the emergence of African American radicalism in Harlem, a crossroads of the African Diaspora in the early twentieth century. Turner reveals that the Harlem Renaissance was more than just an artistic fluorescence; it was also a political movement to counter racism and colonialism.
To explore the roots of the Caribbean emigres' radical ideology and the strategies used to extend agitation from Harlem to national and international platforms, the study draws on the papers and writings of Hermina Huiswoud, Cyril Briggs, the Reverend E. Ethelred Brown, Langston Hughes, and Richard B. Moore, as well as from interviews and biographies of related contemporary figures. It also incorporates census records, FBI files, and hundreds of documents from the recently opened Russian Archive.
Through a focus on Otto Huiswoud, the sole African American charter member of the Communist Party, and his wife, Hermina, Turner exposes the complex developments within the socialist and communist parties on the question of race. The account ranges beyond Harlem to Europe, Africa, and the Soviet Union to reveal the breadth, depth, and nearly global reach of the Afro-Caribbean activists' activities.
---
"Turner has indeed contributed a new dynamic to understanding the African-Caribbean/African-American role in twentieth century political thought and action with Caribbean Crusaders and the Harlem Renaissance, and secondly, through its biographical emphasis, demonstrated the uniqueness of protracted political activism in the face of racism and wholesale colonialism. Students and scholars of political thought and science will find this work rewarding."--The Journal of Pan African Studies

"This cogent and probing study of African American flirtation with socialism and communism broadens understanding of the Harlem Renaissance to its political underpinnings. . . . a must-read for anyone interested in African American literature and history or in the genesis of the American Communist Party. Essential."--Choice

"A valuable addition . . . Turner importantly has brought a large cast of Caribbean intellectuals into the discussion."--The Journal of American History

"Turner has helped immensely to deepen our understanding of those often dismissed but nevertheless important contributions of this circle of overlooked comrades."--Against the Current

"In this vividly written book, Joyce Moore Turner focuses on a small group of Carribbean migrants who not only made a life for themselves in the Big Apple, but also stand out for their political struggles."--New West Indian Guide
"Slowly but surely, we are coming to understand the range of contributions made to the struggle for human rights in the United States by immigrants from the Caribbean, and Joyce Turner's new study is the cream of the crop. She has told an incredibly complex story with amazing thoroughness, grace, and elegance."--Richard J. M. Blackett, author of Divided Hearts: Britain and the American Civil War
---
To order online:
//www.press.uillinois.edu/books/catalog/76efx3wy9780252029967.html
To order by phone:
(800) 621-2736 (USA/Canada)
(773) 702-7000 (International)
Related Titles