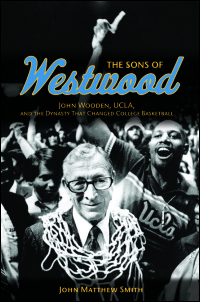 The Sons of Westwood
John Wooden, UCLA, and the Dynasty That Changed College Basketball
Awards and Recognition:
• A Choice Outstanding Academic Title, 2014
College basketball's most dynamic dynasty, on and off the hardwood
For more than a decade, the UCLA dynasty defined college basketball. In twelve seasons from 1964 to 1975, John Wooden's teams won ten national titles, including seven consecutive championships. The Bruins made history by breaking numerous records, but they also rose to prominence during a turbulent age of political unrest and youthful liberation. When Lew Alcindor and Bill Walton--the most famous college basketball players of their generation--spoke out against racism, poverty, and the Vietnam War, they carved out a new role for athletes, casting their actions on and off the court in a political light.
The Sons of Westwood tells the story of the most significant college basketball program at a pivotal period in American cultural history. It weaves together a story of sports and politics in an era of social and cultural upheaval, a time when college students and college athletes joined the civil rights movement, demonstrated against the Vietnam War, and rejected the dominant Cold War culture. This is the story of America's culture wars played out on the basketball court by some of college basketball's most famous players and its most memorable coach.
---
"A highly readable cultural study of one of the greatest teams in sports history."--Kirkus Reviews

"This volume uncovers the indelible link between sports and society in the US. While he focuses on Wooden and UCLA men's basketball, Smith remains mindful of the larger forces molding the young men who played for the 'Wizard of Westwood.' Highly recommended."--Choice

"John Matthew Smith may be the first author to fully and fairly assess the University of California at Los Angeles (UCLA) basketball program during its miraculous run of ten championships from 1964 to 1975. . . . revealing and insightful."--Journal of Sport History

"A thoroughly engrossing account. . . . The Sons of Westwood makes a complex story during a turbulent time in U.S. history a little easier to understand. It is a well-researched account that would be attractive to scholars and a popular audience. . . . John Matthew Smith connects the events occurring in collegiate athletics to events in the larger American society."--The Journal of African American History
"This is the John Wooden book I've been waiting to read--a well-written, meticulously researched, and astute portrait of one of the sporting world's most interesting and influential characters. John Matthew Smith's book is at once a pleasure to read and a solid work of history."--Jonathan Eig, New York Times bestselling author of Opening Day: The Story of Jackie Robinson's First Season

"The Sons of Westwood is an excellent, wide-ranging history, not only of UCLA basketball and the Wizard of Westwood, but of the great social movements which characterized the era of the Wooden Dynasty. I recommend it to any who love basketball or are interested in one of the more interesting periods of recent American life. John Matthew Smith is a historian on which we should all keep our eye."--Charles E. Young, Chancellor Emeritus, UCLA

"In this carefully-researched study, John Matthew Smith has provided an entertaining and insightful look at college basketball's most successful coach and team dynasty. Mixing sport history with social history, Smith reveals the complex reality behind iconic coach John Wooden and his UCLA Bruin teams, as well as the not-so-innocent days of college athletics. Fans and scholars of college sports should not miss this important book."--Charles H. Martin, author of Benching Jim Crow: The Rise and Fall of the Color Line in Southern College Sports, 1890–1980

"A fascinating account of the greatest dynasty in the history of college athletics and its legendary architect, John Wooden. Giving full attention to UCLA basketball's unprecedented success and the careers of its star players, John Matthew Smith provides a thoughtful analysis of societal concerns and issues surrounding the program in the 1960s and early '70s. A first-rate work."--J. Samuel Walker, author of ACC Basketball: The Story of the Rivalries, Traditions, and Scandals of the First Two Decades of the Atlantic Coast Conference

"The Sons of Westwood is the history of an institution (UCLA), the chronicle of a sport (basketball), and the biography of its greatest coach (John Wooden), in a time of cultural and political upheaval (the 1960s and 1970s). It succeeds richly on all four fronts."--Susan Ware, author of Game, Set, Match: Billie Jean King and the Revolution in Women's Sports

"John Matthew Smith tells, in a very balanced and forthright manner, the inside story of John Wooden's famed UCLA basketball program and how it fit into the larger narratives of the civil rights movement, the anti-Vietnam War movement, and the athletic revolution. He shows how Wooden and his extraordinarily talented and gifted integrated teams helped transform college basketball from a regional pastime to a national phenomenon."--David K. Wiggins, coauthor of The Unlevel Playing Field: A Documentary History of the African American Experience in Sport
---
To order online:
//www.press.uillinois.edu/books/catalog/76rwk8fd9780252037771.html
To order by phone:
(800) 621-2736 (USA/Canada)
(773) 702-7000 (International)
Related Titles