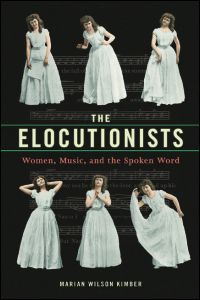 The Elocutionists
Women, Music, and the Spoken Word
Rediscovering a lost art and the women who made it
Emerging in the 1850s, elocutionists recited poetry or drama with music to create a new type of performance. The genre--dominated by women--achieved remarkable popularity. Yet the elocutionists and their art fell into total obscurity during the twentieth century.
Marian Wilson Kimber restores elocution with music to its rightful place in performance history. Gazing through the lenses of gender and genre, Wilson Kimber argues that these female artists transgressed the previous boundaries between private and public domains. Their performances advocated for female agency while also contributing to a new social construction of gender. Elocutionists, proud purveyors of wholesome entertainment, pointedly contrasted their "acceptable" feminine attributes against those of morally suspect actresses. As Wilson Kimber shows, their influence far outlived their heyday. Women, the primary composers of melodramatic compositions, did nothing less than create a tradition that helped shape the history of American music.
---
"An important resource for those interested in speech and drama, rhetoric, music, and women's studies. Highly recommended."--Choice

"An extraordinarily detailed account of a little known American movement beginning in the last half of the nineteenth century and involving the recitation of poetry (and prose to a lesser extent), mostly by women."--Music Reference Services Quarterly

"Ultimately, Wilson Kimber rewards the reader with the special care she took to illuminate not just the history she details, but many contexts and meanings for the women involved and the ones to come after them."--Nineteenth-Century Music Review

"A fascinating book."--Santa Fe New Mexican

"Beautifully designed. . . . Such a carefully researched and highly readable study of women's recitation is captivating and sorely needed."--American Music

"The Elocutionists adds an important counter narrative to our understanding of women's gendered and musical performances during this period." --Journal of Musicological Research

"An extraordinarily detailed account....Through a great deal of archival research, excellent organization of the text, an incisive and fluent writing style, a clear understanding of the social and artistic scene during the Gilded Age and beyond, and careful documentation, the author has vividly described one important facet of 'women's aspirations to the world of high art.'" --Music Reference Services Quarterly

"Her informative survey of this little-known terrain may be a stimulus to engage both more deeply and more broadly with the connections between signing, speech, music, rhetoric, and society in the nineteenth and twentieth centuries." --Music & Letters

"Kimber's analysis of women's dialect recitations offers valuable insight into women's place on the stage and in broader performing culture." --The Annals of Iowa

"Seen as a whole, Marion Wilson Kimber's The Elocutionists is a meticulously documented, compensatory history of a forgotten women's musical performance genre. The author expertly situates her primary and secondary source research among that of others in copious endnotes accounting for one-sixth of the book's 330 pages." -- Nineteenth Century Music Review
"In her fascinating and long-needed study, Wilson Kimber reconstitutes and interprets a set of pervasive but neglected practices that include not only elocution but also melodramatic performance, recitation in combination with music, and the activities of the verse speaking choir. In so doing, she helps to recover an elusive but crucial element of cultural history: the sound of women's lives."--Joan Shelley Rubin, author of Songs of Ourselves: The Uses of Poetry in America

"A century ago, popular literature reached many Americans through the interpretive voices of women, women who--typically barred from the men's world of political oratory--cultivated a performance art in the home, the theater, on the traveling circuit. While revealing the huge variety of music used to accompany spoken narration, Wilson Kimber brings alive again the forgotten art of elocution through a close examination of the 'sentimental keepsakes' and pedagogical traditions it sought to preserve."--Michael V. Pisani, Vassar College
Publication of this book was supported by grants from the H. Earle Johnson Fund of the Society for American Music, from the AMS 75 PAYS Endowment of the American Musicological Society, funded in part by the National Endowment for the Humanities and the Andrew W. Mellon Foundation, and from the University of Iowa School of Music.
---
To order online:
//www.press.uillinois.edu/books/catalog/76xzh3xp9780252040719.html
To order by phone:
(800) 621-2736 (USA/Canada)
(773) 702-7000 (International)
Related Titles