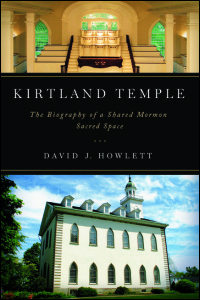 Kirtland Temple
The Biography of a Shared Mormon Sacred Space
Awards and Recognition:
• Best First Book Award, Mormon History Association, 2015
• Smith-Pettit Best Book Award, John Whitmer Historical Association, 2015
A groundbreaking biography of one of Mormonism's holiest shrines
The only temple completed by Mormonism's founder, Joseph Smith Jr., the Kirtland Temple in Kirtland, Ohio, receives 30,000 Mormon pilgrims every year. The site's religious significance and the space itself are contested by distinct Mormon denominations: its owner, the relatively liberal Community of Christ, and the larger Church of Jesus Christ of Latter-day Saints.
David J. Howlett sets the biography of Kirtland Temple against the backdrop of this religious rivalry. The two sides have long contested the temple's ownership, purpose, and significance in both the courts and Mormon literature. Yet members of each denomination have occasionally cooperated to establish periods of co-worship, host joint tours, and create friendships. Howlett uses the temple to build a model for understanding what he calls parallel pilgrimage--the set of dynamics of disagreement and alliance by religious rivals at a shared sacred site. At the same time, he illuminates social and intellectual changes in the two main branches of Mormonism since the 1830s, providing a much-needed history of the lesser-known Community of Christ.
---
"Very well written and interesting. . . . it raises issues that will be as relevant 100 years from now as they are today—specifically, the relationship between sacred space, violence, and religious pluralism. . . . Ultimately, this may be the most important book about the Mormon experience as a whole that will be written in 2014."--The Association of Mormon Letters "Howlett's concept of parallel pilgrimage is the star of this book, a useful tool that will hopefully be applied to other pilgrimage sites. An excellent source for scholars of American religion, ritual studies, and inter-religious dialogue."--Novo Religio: The Journal of Alternative and Emergent Religions

"If visitors to the Kirtland Temple were to read Howlett's book, they would have a greater appreciation of the space they were encountering. . . . he has presented a framework within which a better understanding of the Kirtland Temple can occur from the perspectives of various Mormon belief systems."--BYU Studies Quarterly

"[Kirkland Temple] makes several important contributions to Mormon history."--Journal of American History

"Howlett's biography of the temple lays the essential by bringing forward all the critical data for review. He opens many new avenues of study and starts a significant and fruitful dialogue about the temple and contestation of sacred space. David Howlett's book makes a significant contribution to the cause of Mormon history and is essential reading for those interested in the history of Kirtland and its temple."--Journal of Mormon History
"Kirtland Temple is a thought-provoking, informative, and path-breaking study that opens up a significant new topic in Mormon history. David Howlett is among the ablest and most accomplished younger scholars of Mormon history today. In Kirtland Temple, he has produced a thoroughly researched and thoughtfully nuanced--yet also highly readable--analytical narrative about a much-contested Mormon sacred site during more than a century and a half. This study has given me more insight into the complex and divergent development of the two main branches of the Mormon movement than any other book I have read."--Lawrence Foster, author of Religion and Sexuality: The Shakers, the Mormons, and the Oneida Community

"Overall, this is a fascinating and informative study of the Kirtland Temple that unveils the complex histories of various factional descendants of Joseph Smith's nineteenth-century religious movement. . . . Howlett's work makes exceptional contributions in American religious history and specifically Mormon history."--Thomas Bremer, author of Blessed with Tourists: The Borderlands of Religion and Tourism in San Antonio
---
To order online:
//www.press.uillinois.edu/books/catalog/77hen4fc9780252038488.html
To order by phone:
(800) 621-2736 (USA/Canada)
(773) 702-7000 (International)
Related Titles