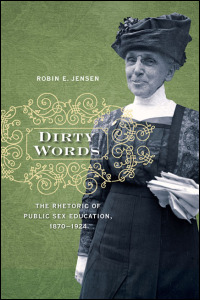 Dirty Words
The Rhetoric of Public Sex Education, 1870-1924
Awards and Recognition:
• Distinguished Book Award, Health Communication Division, National Communication Association (NCA), 2015
Analyzing how health professionals and educators communicated with constituents about sex
Dirty Words: The Rhetoric of Public Sex Education, 1870-1924, details the approaches and outcomes of sex-education initiatives in the Progressive Era. In analyzing the rhetorical strategies of sex-education advocates, Robin E. Jensen engages with rich sources such as lectures, books, movies, and posters that were often shaped by female health advocates and instructors. Her narrative demonstrates how women were both leaders and innovators in early U.S. sex-education movements, striving to provide education to underserved populations of women, minorities, and the working class. Investigating the communicative and rhetorical practices surrounding the emergence of public sex education in the United States, Jensen shows how women in particular struggled for a platform to create and circulate arguments concerning this controversial issue.
The book also provides insight into overlooked discourses about public sex education by analyzing a previously understudied campaign targeted at African American men in the 1920s, offering theoretical categorizations of discursive strategies that citizens have used to discuss sex education over time, and laying out implications for health communicators and sexual educators in the present day.
"Approaching the early struggles over sex education in the public schools from the fresh angle of rhetorical analysis, Jensen provides a useful guide to contemporary debates on this important issue. This book is of special interest to students and scholars of history, education, women's studies, communications, and rhetoric."--Jeffrey P. Moran, author of Teaching Sex: The Shaping of Adolescence in the Twentieth Century

"Illuminating a rich collection of primary texts, Jensen demonstrates that despite exclusion from existing historical accounts, women played a significant role in the advocacy of sex education. This important Progressive Era history details the deliberative context in which debates about sex education occurred and analyzes strategies employed by often-overlooked female advocates."--Susan Zaeske, author of Signatures of Citizenship: Petitioning, Antislavery, and Women's Political Identity
---
To order online:
//www.press.uillinois.edu/books/catalog/77kfx8fn9780252035739.html
To order by phone:
(800) 621-2736 (USA/Canada)
(773) 702-7000 (International)
Related Titles