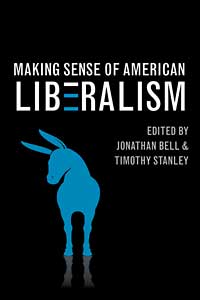 Making Sense of American Liberalism
Awards and Recognition:
• A Choice Outstanding Academic Title, 2013
Taking the pulse of the left in contemporary politics
This collection of thoughtful and timely essays offers refreshing and intelligent new perspectives on postwar American liberalism. Sophisticated yet accessible, Making Sense of American Liberalism challenges popular myths about liberalism in the United States. The volume presents the Democratic Party and liberal reform efforts such as civil rights, feminism, labor, and environmentalism as a more united, more radical force than has been depicted in scholarship and the media emphasizing the decline and disunity of the left.
Distinguished contributors assess the problems liberals have confronted in the twentieth century, examine their strategies for change, and chart the successes and potential for future liberal reform. Each chapter tackles a different example of the challenges and achievements of liberal politics, from organized labor to the links between liberalism and social democracy in U.S. political life.
An excellent compendium of recent political history and a timely resource for those seeking to assess the place of liberalism in contemporary political arenas, Making Sense of American Liberalism emphasizes the powerful liberal reform impulse in making modern American politics--something that few works have done convincingly in recent years--while remaining cognizant of the importance of the right in shaping policy and ideology.
Contributors are Anthony J. Badger, Jonathan Bell, Lizabeth Cohen, Susan Hartmann, Ella Howard, Bruce Miroff, Nelson Lichtenstein, Doug Rossinow, Timothy Stanley, and Timothy Thurber.
---
"With the proliferation of scholarly monographs on the conservative movement, this volume's serious engagement with U.S. liberalism is surprisingly refreshing. Highly Recommended."--Choice

"A compelling narrative of the shifting dynamics of ideas and policy on the left end of the political spectrum."--The Journal of American History

"An exciting collection of ten essays exploring liberalism and the New Deal coalition in the twentieth century. . . . a wonderful preview of some interesting new scholarship."--The Journal of Southern History
"This impressive collection of thoughtful essays pulls together an all-star roster of prominent historians and promising younger scholars to make an important contribution to our understanding of postwar liberalism."--Steven M. Gillon, resident historian for The History Channel and author of The Kennedy Assassination--24 Hours After: Lyndon B. Johnson's Pivotal First Day as President

"Making Sense of American Liberalism promises to alter the way we look at liberalism and the Democratic Party. Disagreeing with contentions that conservatives enjoy a natural electoral majority, editors Jonathan Bell and Timothy Stanley use the essays in this volume to show that American history is neither seamlessly conservative nor liberal but rather an ongoing battle between these two competing visions. The collection will prompt scholars to reconsider the history of postwar politics."--Peter B. Levy, author of The New Left and Labor in the 1960s
---
To order online:
//www.press.uillinois.edu/books/catalog/77qay8fg9780252036866.html
To order by phone:
(800) 621-2736 (USA/Canada)
(773) 702-7000 (International)
Related Titles