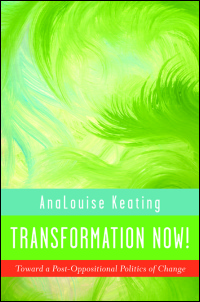 Transformation Now!
Toward a Post-Oppositional Politics of Change
Awards and Recognition:
• Honorable Mention, Gloria E. Anzaldúa Award, National Women's Studies Association (NWSA), 2014
The transformative power of inclusion and interconnection
In this lively, thought-provoking study, AnaLouise Keating writes in the traditions of radical U.S. women-of-color feminist/womanist thought and queer studies, inviting us to transform how we think about identity, difference, social justice and social change, metaphysics, reading, and teaching. Through detailed investigations of women-of-color theories and writings, indigenous thought, and her own personal and pedagogical experiences, Keating develops transformative modes of engagement that move through oppositional approaches to embrace interconnectivity as a framework for identity formation, theorizing, social change, and the possibility of planetary citizenship. Considering a series of examples in which worlds collide because of race, class, gender, sexuality, belief, and other identifications, she explores how a post-oppositional approach yields unlikely yet fruitful dialogues and transformational possibilities. Speaking to the political, ethical, social, spiritual, intellectual, and pedagogical dimensions of contemporary scholarship, activism, and social justice work, Transformation Now! calls for and enacts innovative, radically inclusionary ways of reading, teaching, and communicating.
---
"Offers a thoughtful and provocative theoretical framework for moving through and beyond binary thinking and identity politics. . . . Those interested in social justice work will benefit from Keating's post-oppositional framework for bringing about social change. Highly Recommended."--Choice

"Transformation Now! is an important addition to the body of visionary literature by feminists and womanists of color."--Women's Review of Books

"Keating's text simultaneously offers a sense of urgency and hope, a utopian view paired with a sense of possibility and sometime even inevitability if her stance is adopted, considered, or even pushed against. Her desire for igniting a new conversation about making change is inspiring to practitioners looking for a new way to approach the challenges they face in and out of the classroom."--Journal of American Culture
"AnaLouise Keating has presented us with what is perhaps the biggest innovation in critical theory in decades: a roadmap for moving beyond oppositional frameworks and the conflict/resistance-based models of social change and identity that they invariably produce. New vistas for deep and sustainable change open up on the heels of Transformation Now!"--Layli Maparyan, author of The Womanist Idea

"This truly unique and exciting study uses the writings of U.S. women of color to transform the ways in which we do academic and political work, positing a model of interconnectivity between the individual and the community as an alternative to identity politics. The book will appeal to intellectuals interested in social justice of any kind."--Suzanne Bost, author of Encarnación: Illness and Body Politics in Chicana Feminist Literature
---
To order online:
//www.press.uillinois.edu/books/catalog/78atf8nh9780252037849.html
To order by phone:
(800) 621-2736 (USA/Canada)
(773) 702-7000 (International)
Related Titles