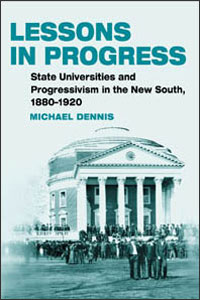 Lessons in Progress
State Universities and Progressivism in the New South, 1880-1920
How progressivism transformed higher education in the New South by focusing on practical, utilitarian education, creating a vast educational bureaucracy, and making the universities into instruments of the state.
Lessons in Progress provides a detailed look at how progressivism transformed higher education in the New South. Orchestrated by an alliance of northern philanthropists and southern intellectuals, modernizing universities focused on practical, utilitarian education aimed at reinvigorating the South through technological advancement. They also offered an institutional vehicle by which a new, urban middle class could impose order on a society in flux.
Michael Dennis charts the emergence of the modern southern university through the administrations of four university presidents: Edwin Alderman (Virginia), Samuel C. Mitchell (South Carolina), Walter Barnard Hill (Georgia), and Charles Dabney (Tennessee). He shows how these administrative leaders worked to professionalize the university and to knit together university and state agencies, promoting a social service role in which university personnel would serve as expert advisors on everything from public health to highway construction.
Dennis also explains how the programs of educational progressives perpetuated traditional divisions of race, sex, and class. The Tuskegee/Hampton model favored industrial education for blacks whose labor would support the South's expanding urban industrial complex, while education for women was careful not to disturb conventional notions of a woman's place. White workers found themselves subject to an increasingly centralized system of education that challenged their traditional independence.
State universities in the New South were not isolated enclaves of classical learning but rather were inextricably tied to social reform initiatives. Seeking a more practical and socially responsible form of education, university modernizers succeeded in establishing the framework of a more modern, bureaucratic state. Despite their accomplishments, however, they failed to generate the kind of economic progress they had envisioned for the South.
---
"Dennis has made a solid contribution to the historiography of the modernizing, progressive South and to the study of at least four of its universities." -- Wayne J. Urban, Journal of American History
"This complex, well-researched book by historian Michael Dennis is an important addition to the slowly growing list of works that address the history of education in the South." -- Randal L. Hall, Georgia Historical Quarterly
"[Dennis] effectively adds new characters and episodes to the historical drama of the modern state university as part of Progressivism. . . . By adding a detailed profile of the South to the generalizations about higher education and state governments between 1880 and 1920, it makes Progressivism a truly nationwide phenomenon whose influences and issues were not confined only to the familiar ground of Wisconsin and California." -- Florida Historical Quarterly
"Not only has he effectively told the story of a heretofore largely neglected aspect of educational progressivism, he has also shown how this national movement was modified and adapted to local conditions." History of Education Quarterly
To order online:
//www.press.uillinois.edu/books/catalog/78fsw4xh9780252026171.html
To order by phone:
(800) 621-2736 (USA/Canada)
(773) 702-7000 (International)
Related Titles