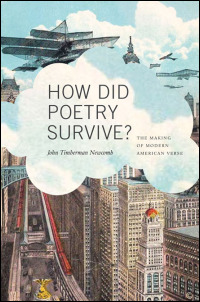 How Did Poetry Survive?
The Making of Modern American Verse
Awards and Recognition:
• A Choice Outstanding Academic Title, 2013
How a handful of little magazines reshaped the landscape of American poetry
How Did Poetry Survive? traces the emergence of modern American poetry at the turn of the nineteenth century. American poetry had stalled: a small group of recently deceased New England poets still held sway, and few outlets existed for living poets. However, the United States' quickly accelerating urbanization in the early twentieth century opened new opportunities, as it allowed the rise of publications focused on promoting the work of living writers of all kinds. The urban scene also influenced the work of poets, shifting away from traditional subjects and forms to reflect the rise of buildings and the increasingly busy bustle of the city. Change was everywhere: new forms of architecture and transportation, new immigrants, new professions, new tastes, new worries.
This urbanized world called for a new poetry, and a group of new magazines entirely or chiefly devoted to exploring modern themes and forms led the way. Avant-garde "little magazines" succeeded not by ignoring or rejecting the busy commercial world that surrounded them, but by adapting its technologies of production and strategies of marketing for their own purposes.
With a particular focus on four literary magazines--Poetry, The Masses, Others, and The Seven Arts--John Timberman Newcomb shows how each advanced ambitious agendas combining urban subjects, stylistic experimentation, and progressive social ideals. All four were profoundly affected by World War I, and the poetry on their pages responded to the war and its causes with clarity and strength. While subsequent literary history has favored the poets whose work made them distinct--individuals singled out usually on the basis of a novel technique--Newcomb provides a denser, richer view of the history that hundreds of poets made.
---
"An important study . . . of how poetry finds itself in the world and becomes an integral part of it. Highly recommended."--Choice
"A pathbreaking study. No other book treats the 'new verse' of the 1910s and early 1920s with such care and with such a sense of contextual detail. Our sense of what modern poetry can achieve--and how poetry helped shape a modernist sensibility--will be subtly but surely changed by what Newcomb offers here."--Edward Brunner, author of Cold War Poetry

"A bold and meticulously researched revision of the history of modern American poetry. Newcomb's brilliant close readings illuminate the social and political dimensions of modern poetry and poetics."--Suzanne W. Churchill, coeditor of Little Magazines & Modernism: New Approaches
---
To order online:
//www.press.uillinois.edu/books/catalog/78mbe6ah9780252036798.html
To order by phone:
(800) 621-2736 (USA/Canada)
(773) 702-7000 (International)
Related Titles