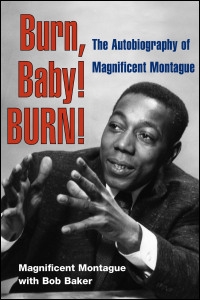 Burn, Baby! BURN!
The Autobiography of Magnificent Montague
Reflections from the legendary R & B deejay whose signature sound seared the airwaves
With his dynamic on-air personality and his trademark cry of "Burn, baby! BURN!" when spinning the hottest new records, Magnificent Montague was the charismatic voice of soul music in Chicago, New York, and Los Angeles from the mid-1950s to the mid-1960s. In this memoir Montague recounts the events of his momentous radio career, which ran from the era of segregation to that of the civil rights movement; as he does so, he also tells the broader story of a life spent in the passionate pursuit of knowledge, historical and musical.
Like many black disc jockeys of his day, Montague played a role in his community beyond simply spreading the music of James Brown, Otis Redding, Aretha Franklin, and other prominent artists. Montague served as an unofficial spokesman for his black listeners, reflecting their beliefs and acting as a sounding board for their concerns.
Montague was based in Los Angeles in 1965 when the Watts rioters seized on his incendiary slogan, turning the shout of musical appreciation into a rallying cry for racial violence. In Burn, Baby! BURN! Montague recalls these tumultuous times, including the personal struggle he faced over whether to remain true to his listeners or bend to political pressure and stop shouting his suddenly controversial slogan.
Since the mid-1950s Montague had also expressed his passion for African American culture by becoming a zealous collector of artifacts of black history. He has built a monumental collection, taking time out from his collecting to become only the second African American to build his own radio station literally from the ground up.
A compelling account of a rich and varied life, Burn, Baby! BURN! gives an insider's view of half a century of black history, told with on-the-air zest by the DJ/historian who was there to see it unfold.
---
"Montague's undeniable energy and passion for life leap from the pages."--Los Angeles Sentinel
"Montague! Dynamic! Understanding! A brother in the struggle! Yes, the Magnificent Montague! A man who commanded so much love and respect it will never, never, never be replaced. Take it from the Godfather of Soul, paying homage to the Don of Radio: This book tells it all."--James Brown

"Webster defines 'magnificent' as splendid, superb, noble--truly a description of Montague. He was splendid in his ability to captivate the listening audience, superb in his role as a community leader, and noble in the way he showed young people how to move through life with class. As I looked up these definitions, I thought to myself, 'Webster must have known my friend Montague.' I'm so glad he was around during the infancy years at Motown. What a blessing he was to so many of us."--Smokey Robinson

"The only sustained account by a black deejay who lived through the harshly segregated world of the 1950s and the explosive civil rights era of the 1960s. This book is a valuable contribution to the literature of black life and history."--Robert Pruter, author of Chicago Soul and Doowop: The Chicago Scene
---
To order online:
//www.press.uillinois.edu/books/catalog/78swm3ye9780252028731.html
To order by phone:
(800) 621-2736 (USA/Canada)
(773) 702-7000 (International)
Related Titles