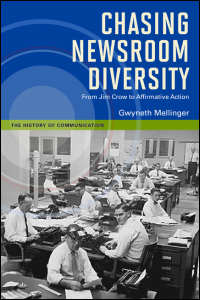 Chasing Newsroom Diversity
From Jim Crow to Affirmative Action
Awards and Recognition:
• Frank Luther Mott / Kappa Tau Alpha Research Award, 2013
Missed opportunity in the newspaper industry's diversity efforts
Social change triggered by the Civil Rights Movement in the 1960s sent the American Society of Newspaper Editors (ASNE) on a fifty-year mission to dismantle an exclusionary professional standard that envisioned the ideal journalist as white, straight, and male. In this book, Gwyneth Mellinger explores the complex history of the decades-long ASNE diversity initiative, which culminated in the failed Goal 2000 effort to match newsroom demographics with those of the U.S. population.
Drawing upon exhaustive reviews of ASNE archival materials, Mellinger examines the democratic paradox through the lens of the ASNE, an elite organization that arguably did more than any other during the twentieth century to institutionalize professional standards in journalism and expand the concepts of government accountability and the free press. The ASNE would emerge in the 1970s as the leader in the newsroom integration movement, but its effort would be frustrated by structures of exclusion the organization had embedded into its own professional standards. Explaining why a project so promising failed so profoundly, Chasing Newsroom Diversity expands our understanding of the intransigence of institutional racism, gender discrimination, and homophobia within democracy.
---
"Provides a compelling explanation for how forward-thinking goals can be felled by institutional prejudice. . . . Anyone interested in the social movements of the twentieth century will find the book a worthwhile read."—Journalism History

"The work provides an excellent foundation for further studies on newsroom diversity. As a teaching tool, the book also would likely prompt lively classroom discussions."--American Journalism

"Mellinger provides a very useful and most informative case study of how one professional organization addresses some deeply embedded, institutionalized norms with social, political and cultural implications over an extended period of time--50 years, with insight into the degree of difficulty it had in trying to dismantle them."--Gateway Journalism Review

"Chasing Newsroom Diversity provides a thoroughly reported account of the evolution of ASNE's approach to minority recruitment and the feeble implementation of that goal in the workplace."--Newspaper Research Journal

"Gwyneth Mellinger's Chasing Newsroom Diversity: From Jim Crow to Affirmative Action offers explanations for 'why an effort so promising failed so profoundly.' In explaining the failure, the book provides a meticulous documented view of the ASNE over a fifty-year span, beginning in the mid-1950s. The work provides an excellent foundation for further studies on newsroom diversity."--American Journalism
"Using the insights of whiteness studies and a rich array of primary sources, Mellinger demonstrates how and why the American Society of Newspaper Editors failed to achieve its 1978 diversity initiative's hiring goals by the goal year of 2000. She persuasively argues that whiteness (and maleness) consistently operated as a professional norm within the ASNE across time, even as the organization's leaders attempted to diversify newsrooms across America. A compelling and provocative book."--Kathy Roberts Forde, author of Literary Journalism on Trial: Masson v. New Yorker and the First Amendment
---
To order online:
//www.press.uillinois.edu/books/catalog/78tby2hz9780252037382.html
To order by phone:
(800) 621-2736 (USA/Canada)
(773) 702-7000 (International)
Related Titles