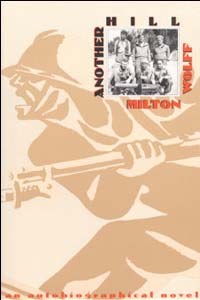 Another Hill
An Autobiographical Novel
Awards and Recognition:
AAUP Book, Jacket & Journal Show selection in the typographic books category, 1995.
In this powerful novel, Milton Wolff gives readers an insider's understanding of the American volunteers who fought with the Republicans in the Spanish Civil War.
Wolff gives us a detailed picture of the heroism and trauma of battle, while covering as well those issues others have avoided: the desertion of some Americans, the execution of fascist prisoners, and black market activities. He dramatizes many famous figures - including Ernest Hemingway, Martha Gellhorn, Jo Davidson, Juan Gegrin, and Dolores Ibarruri Gomeza (La Pasionaria) - and provides candid portrayals of major heroes and Communist party functionaries. Another Hill is, in part, Wolff's answer to Hemingway's For Whom the Bell Tolls.
---
"Gritty realism and an eye for political complexity . . . the muscular narrative provides valuable testimony of what it was like to fight Spain's rebel Nationalist troops, who enjoyed vastly superior weaponry and manpower supplied by Hitler and Mussolini, while the Western democracies passively looked on."--Publishers Weekly

"Engrossing; [Wolff] has an eye for significant detail and a gift for dialogue."--Bernard Knox, New York Times Book Review
"The best book about war since . . . All Quiet on the Western Front."--Howard Fast

"It's very well done, brought it all back, the grandeur and the betrayal."--Arthur Miller

"The best book so far about the American participation in Spain. And it might very well remain in permanent possession of that title."--Ring Lardner Jr.

"I have never read more intimate, convincing, and devastating accounts of combat. . . . It is a moving, revealing, personal contribution to the great large story of la causa, as the Spaniards of the Republic called their war."--Martha Gellhorn

"A fine novel and at the same time an historical document. . . . It will fascinate students of the fiction on war."--Alan Wald, author of New York Intellectuals
Supported by a grant from the National Poetry Series, Inc.
---
To order online:
//www.press.uillinois.edu/books/catalog/79rrb5ka9780252069833.html
To order by phone:
(800) 621-2736 (USA/Canada)
(773) 702-7000 (International)
Related Titles