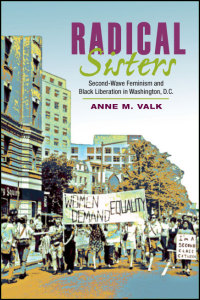 Radical Sisters
Second-Wave Feminism and Black Liberation in Washington, D.C.
Awards and Recognition:
Winner of the Richard L. Wentworth Prize in American History, 2009.
How racial and class differences influenced the modern women's movement
Radical Sisters offers a fresh exploration of the ways that 1960s political movements shaped local, grassroots feminism in Washington, D.C. Rejecting notions of a universal sisterhood, Anne M. Valk argues that activists periodically worked to bridge differences for the sake of alleviating women's plight, even while maintaining distinct political bases. While most historiography on the subject tends to portray the feminist movement as deeply divided over issues of race, Valk presents a more nuanced account, showing feminists of various backgrounds both coming together to promote a notion of "sisterhood" and being deeply divided along the lines of class, race, and sexuality.
---
"Through meticulous historical exploration of women's political activism in Washington, D.C., Valk provides a nuanced analysis of how the synergistic relationships among multiple social movements and the women who moved among them produced radical feminist policies."--Women's Review of Books

"Valk's study of women's political activism in Washington, D.C., offers new ways to think about the various organizations that women formed in the 1960s and 1970s. . . .Beautifully organized. . . . Ambitious in scope, rich in detail, but well worth the effort required to absorb its many insights."--Journal of American History

"This book provides a crucial new perspective on women's activism and on social activism in general. It is a terrific and highly readable addition to the historiography of feminism, and will be welcome to teachers and students alike."--H-Urban

"Valk's in-depth analysis provides a new, more nuanced take on the era. Recommended."--Choice

"Carefully argued and well-documented."--Oral History Review

"Poignantly and powerfully points to the limits of and opportunities for women's activism across race and social class."--NWSA Journal

"[An] important and exciting new work."--Journal of Southern History

"Bravely enters the fray in continuing to document and weave together the analytical threads of the 1960s and 1970s social movements."--American Historical Review

"A compelling account of the interactions between grassroots movements advocating for the rights of women and African Americans in Washington, DC in the 1960s and 1970s. Through vivid and detailed descriptions of the fight for welfare rights and reproductive control, and against homophobia and sexual violence, Valk's cultural history provides a welcome relief from the theorizing that has tended to dominate academic discussion of feminism in recent years."--Journal of American Studies

"An important, well-researched, and well-balanced study that should appeal to scholars in many disciplines."--Journal of African American History
"A must read for anyone seeking a full understanding of second-wave feminism. Radical Sisters is the first to thoroughly examine the fruitful (yet often divisive) relationships between women's liberation, the black freedom struggle, and anti-poverty activism. Valk's graceful prose complements this comprehensively researched, convincingly argued, and richly detailed study of how movements for black liberation and economic justice shaped local, grass-roots feminism in Washington, D.C. An ideal book for history, sociology, and women's studies courses."--Susan M. Hartmann, author of The Other Feminists: Activists in the Liberal Establishment
---
To order online:
//www.press.uillinois.edu/books/catalog/82whm4qg9780252032981.html
To order by phone:
(800) 621-2736 (USA/Canada)
(773) 702-7000 (International)
Related Titles