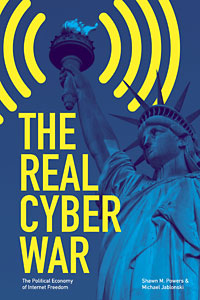 The Real Cyber War
The Political Economy of Internet Freedom
Awards and Recognition:
• International Communication Book Award, International Studies Association, 2017
How the freedom-to-connect movement aids Western hegemony
Discussions surrounding the role of the internet in society are dominated by terms such as internet freedom, surveillance, cybersecurity, and, most prolifically, cyber war. But behind the rhetoric of cyber war is an ongoing state-centered battle for control of information resources. Shawn Powers and Michael Jablonski conceptualize this real cyber war as the utilization of digital networks for geopolitical purposes, including covert attacks against another state's electronic systems, but also, and more importantly, the variety of ways the internet is used to further a state's economic and military agendas.
Moving beyond debates on the democratic value of new and emerging information technologies, The Real Cyber War focuses on political, economic, and geopolitical factors driving internet freedom policies, in particular the U.S. State Department's emerging doctrine in support of a universal freedom to connect. They argue that efforts to create a universal internet built upon Western legal, political, and social preferences is driven by economic and geopolitical motivations rather than the humanitarian and democratic ideals that typically accompany related policy discourse. In fact, the freedom-to-connect movement is intertwined with broader efforts to structure global society in ways that favor American and Western cultures, economies, and governments.
---
"Shawn M. Powers and Michael Jablonski's seminal new book The Real Cyber War. . . . will help to inspire a change in course that will restore the internet to what it might become (and what many thought it was supposed to be): an engine for democracy and social and economic progress, justice, and equity."--Boundary 2

"Powers and Jablonski execute the close knitting that is the hallmark of careful political economy work — The Real Cyber War documents the interests at play in contemporary international communication and issues a clarion call to think otherwise about how the Internet might serve global interests rather than parochial ones."--Journal of Communication

"Powers and Jablonski take a unique approach to the concept of cyber war, focusing on the very architecture of the internet itself. Recommended."--Choice

"The Real Cyber War serves as an excellent analysis of where we are now and sets the agenda for the coming years."--Information, Communication & Society

"In their excellent book, The Real Cyberwar: The Political Economy of Internet Freedom, Shawn Powers and Michael Jablonski describe Google's unprecedented dominance of the contemporary data economy. Drawing attention to the irregular regulation of the global data trade, when compared to all other commodities, they note the power of the internet-freedom agenda to legitimise a particular set of economic practices."--The Guardian

"Shawn Powers and Michael Jablonski's book will be of particular use to International Relations scholars and readers eager to place global digital issues and debates into their geopolitical and geo-economic contexts. . . . Bringing together these fields has proved particularly necessary since Edward Snowden's revelations, which have shown that the internet policy has far-reaching implications which go beyond merely technical issues. This is precisely what Powers and Jablonski intend to do in this meticulous book."--International Affairs

"The Real Cyber War is an important work in the budding field of Internet government research. . . . Already The Real Cyber War has become an essential read within the fields of international relations, communication, political economy, and cyber security."--International Journal of Communication

"The Real Cyber War says many things that need to be said. . . . Authors Shawn Powers and Michael Jablonski closely examine concepts that guide American policy, such as Internet freedom and multistakeholderism. Rightly noted, the authors question if these ideas are based on outdated assumptions and cherished notions of politicos and technorati alike. . . . The Real Cyber War presents a new and valuable discussion of what can truly be called a geopolitical struggle and perhaps the most important war of our time."--Marine Corps University Journal
"A knowing, wide-ranging, perceptive, important, and original book. Powers and Jablonski connect disparate and significant dots; weave history, technology, and law together; and explain interrelated complex concepts imaginatively. They tell a compelling story key for any student of transnational information flows."--Monroe Price, author of Media and Sovereignty: The Global Information Revolution and its Challenge to State Power

"As governments, companies, civil society, and other stakeholders struggle towards a new global information and communication order in the post-Snowden world, this equally provocative and important book cuts through the Western rhetoric of 'Internet freedom' and draws a sobering picture of how policy-making in this space is ultimately a fight for control over information, which is largely driven by economic and geopolitical interests rather than democratic ideals and human rights."--Urs Gasser, Executive Director, Berkman Center for Internet & Society, Harvard University

"More comprehensive than most work on global internet politics because it incorporates perspectives from a wider range of interests around the world. The treatment of China is strong, as are the examples from emerging nations."--Vincent Mosco, author of To the Cloud: Big Data in a Turbulent World
---
To order online:
//www.press.uillinois.edu/books/catalog/83cdd9wm9780252039126.html
To order by phone:
(800) 621-2736 (USA/Canada)
(773) 702-7000 (International)
Related Titles
previous book
next book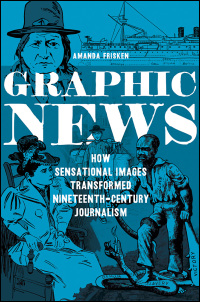 Graphic News
How Sensational Images Transformed Nineteenth-Century Journalism
Amanda Frisken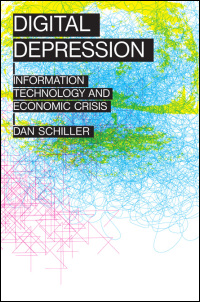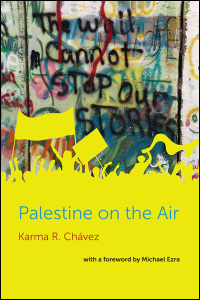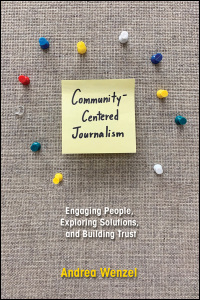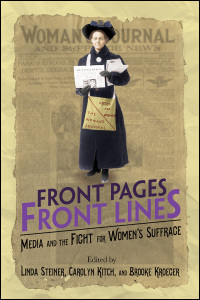 Front Pages, Front Lines
Media and the Fight for Women's Suffrage
Edited by Linda Steiner, Carolyn Kitch, and Brooke Kroeger
History of the Present
Joan W.Scott, Andrew Aisenberg, Brian Connolly, Ben Kafka, Sylvia Schafer, & Mrinalini Sinha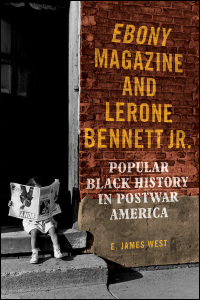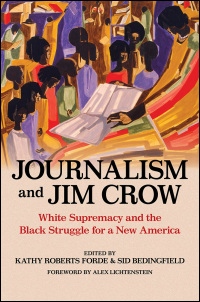 Journalism and Jim Crow
White Supremacy and the Black Struggle for a New America
Edited by Kathy Roberts Forde and Sid Bedingfield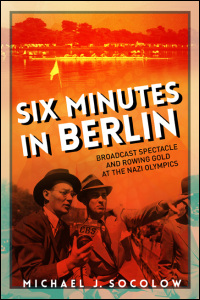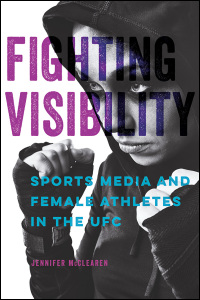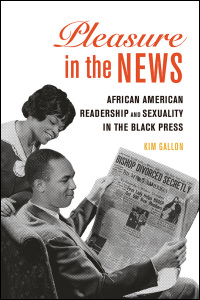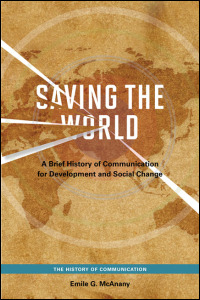 Saving the World
A Brief History of Communication for Development and Social Change
Emile G. McAnany