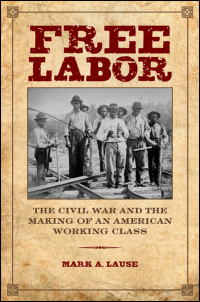 Free Labor
The Civil War and the Making of an American Working Class
National catastrophe and the evolution of the labor movement
Monumental and revelatory, Free Labor explores labor activism throughout the country during a period of incredible diversity and fluidity: the American Civil War.
Mark A. Lause describes how the working class radicalized during the war as a response to economic crisis, the political opportunity created by the election of Abraham Lincoln, and the ideology of free labor and abolition. His account moves from battlefield and picket line to the negotiating table, as he discusses how leaders and the rank-and-file alike adapted tactics and modes of operation to specific circumstances. His close attention to women and African Americans, meanwhile, dismantles notions of the working class as synonymous with whiteness and maleness.
In addition, Lause offers a nuanced consideration of race's role in the politics of national labor organizations, in segregated industries in the border North and South, and in black resistance in the secessionist South, creatively reading self-emancipation as the largest general strike in U.S. history.
---
"Historian Lause (Univ. of Cincinnati) significantly helps expand knowledge of the US labor movement in the period up to, during, and immediately after the Civil War. Highly recommended,"--Choice

"Lause's book presents an impressive array of original scholarship. The immense detail he provides on little-known aspects of the Civil War-era labour movement will prove especially valuable as a resource to future researchers. . . . by joining the history of the labour movement and the history of the war, Lause has filled a long-neglected gap in the literature on the mid-19th-century United States."--Labour/ Le Travail

"Mark Lause has written a deeply researched and broad-ranging exploration of Civil War labor history for the twentieth-first century. . . . This is an important study that labor historians will build on for years to come."--North Carolina Historical Review

"An excellent synthesis of the daily struggles of working people during the war."--Journal of Southern History

"Free Labor: The Civil War and the Making of an American Working Class stands as a major achievement, filling a huge gap in the literature and revising our understanding of nineteenth-century labor history and the history of the Civil War."--H-Net Reviews

"Mark A. Lause's deeply researched study of labor during the Civil War is an ambitious effort to change how we understand the significance of the Civil War and the history of the American labor movement, together."--Journal of American History

"An illuminating and persuasive retelling of the Civil War from the bottom up." --Journal of the Illinois State Historical Society
"A major contribution in tying together the disparate labor movements throughout the United States in the Civil War years and in showing the continued strength of antebellum labor radicalism tied to abolition."--Gerald Friedman, author of Reigniting the Labor Movement: Restoring Means to Ends in a Democratic Labor Movement

"Lause's study grapples with an almost infinite number of organizations, crafts, tactics, and settings. He focuses not only upon widely known leaders and theoreticians, but resurrects ordinary workers who struggled on the battlefield and the picket line. His ability to follow individuals from union organizations to the battlefield frankly made my jaw drop."--Adam Tuchinsky, author of Horace Greeley's New-York Tribune: Civil War Era-Socialism and the Crisis of Free Labor

"In his book Free Labor, Mark Lause has answered so many questions about how the trade union movement and free labor advocates participated in the American Civil War and navigated its sea changes. He demonstrates how in the words of one Iowa harnessmaker, the war 'was a great labor movement.' As the history of ideology, Lause shows how the malleable idea of free labor served as the aspiration of slaves and other workers as well. As social history, the book serves as an important bridge to connect the extensive literature on laborers in the early American republic to that on post-war railroad unions. Lause shows how trade union proponents in skilled trades went to war in leadership positions and battle in the Federal Union army. At home, during the war, working men and women continued to press for shorter working hours and wages to keep up with the rising prices that the war produced. He identifies how working people fared and pushed for reforms during the four critical war years. By analyzing the digitized newspaper collections, Lause has found the many lost pockets of strike activity, such as the great slave strike, and he documents which strikes won and which lost. From the navy yards to the print shops, collective action continued during the war. This book contains treasures." --Lea S. VanderVelde, author of Redemption Songs: Suing for Freedom before Dred Scott
---
To order online:
//www.press.uillinois.edu/books/catalog/83qmn2rk9780252039331.html
To order by phone:
(800) 621-2736 (USA/Canada)
(773) 702-7000 (International)
Related Titles