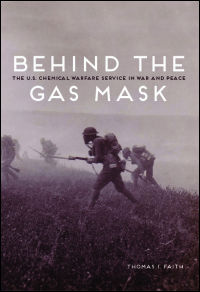 Behind the Gas Mask
The U.S. Chemical Warfare Service in War and Peace
A timely history of the conflict over the American use of chemical weapons during and after WWI
When the United States entered World War I, inadequacies in research, manufacturing, and battlefield training left the military at a severe disadvantage in deploying poison gas while American soldiers suffered the highest rate of gas casualties among the belligerent nations.
In Behind the Gas Mask, Thomas I. Faith offers an institutional history of the Chemical Warfare Service, the department tasked with improving the Army's ability to use and defend against chemical weapons. Taking the CWS's story from the trenches to peacetime, he explores how the CWS's work on chemical warfare continued through the 1920s despite deep opposition to the weapons in both military and civilian circles.
As Faith shows, the advocates for chemical weapons within the CWS allied with supporters in the military, government, and private industry to lobby to add chemical warfare to the country's permanent arsenal. Their argument: poison gas represented an advanced and even humane tool in modern war, while its applications for pest control and crowd control made a chemical capacity relevant in peacetime. But conflict with those aligned against chemical warfare forced the CWS to fight for its institutional life--and ultimately led to the U.S. military's rejection of battlefield chemical weapons. The only current book on the Chemical Warfare Service and its times, Behind the Gas Mask offers a thought-provoking view of the history and place of chemical weapons in American warmaking.
---
"Well-researched and informative. . . . a good look at American preparation for and experience with gas exposure in World War I."--The Journal of America's Military Past

"As the centennial anniversary of World War I is upon us and as chlorine gas is once again being used as a weapon of war in the Middle East, Faith's review of the birth of the Chemical Warfare Service is well-timed and pertinent."--H-Net Reviews

"A compelling case study of the dilemmas the US Army faced in that period."--Michigan War Studies Review

"Faith's study will be very useful and instructive for anyone interested in the Army's uneasy relationship with chemical warfare during and immediately after World War I."-- On Point: Journal of Army History
"Faith offers a compelling investigation of the U.S. Army's experience with chemical weapons in World War I. Ultimately the public and government rejected future use of chemical weapons in battle. If Americans had accepted the arguments of chemical weapons experts, twentieth-century warfare would have been even more terrifying. This book tells an important story of a path not taken, at least not yet."--Jennifer D. Keene, author of Doughboys, the Great War and the Remaking of America
---
To order online:
//www.press.uillinois.edu/books/catalog/83qxq4ce9780252038686.html
To order by phone:
(800) 621-2736 (USA/Canada)
(773) 702-7000 (International)
Related Titles