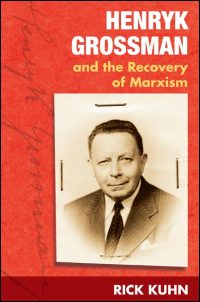 Henryk Grossman and the Recovery of Marxism
Awards and Recognition:
Awarded the Isaac and Tamara Deutscher Memorial Prize (2007).
The first comprehensive English-language Grossman biography
Rick Kuhn's Henryk Grossman and the Recovery of Marxism is the definitive study of the life and work of this renowned economist, activist, and intellectual. As a young man, Grossman joined the socialist movement and participated in Jewish workers' strikes and demonstrations, as well as in boycotts against employers and the Austro-Hungarian state. He moved to Vienna, but was driven back to Poland by the Austrian state's racist citizenship policies. A member of the illegal Polish Communist Party, Grossman was frequently arrested and jailed, finally leaving Poland for a post at the Institute for Social Research in Frankfurt am Main, which gave rise to the famous "Frankfurt School."
Grossman published his best-known work in Frankfurt, including studies of Marx's method in Capital and theories of economic crisis that remain influential today. In tracing Grossman's experiences from Kraków to New York and offering a detailed account of his ideas, the biography provides an intimate account of key events in twentieth-century history, including the politicization of east European Jewry, the World Wars, the rise of Stalinism and Nazism, and the cold war.
---
"Grossman is an important part of our heritage. . . . Kuhn's volume is a valuable addition to our theoretical armour."--International Socialism
"A labor of love, this is clearly the definitive biography of Grossman. It will establish itself as an authoritative work not only on his life but on the generation of which he was so representative."--Antony Polonsky, Albert Abramson Professor of Holocaust Studies, Brandeis University and United States Holocaust Memorial Museum

"I know of no other work that comes close to recovering Grossman's thoroughly absorbing version of Marxism for our day. Kuhn's strikingly clear interpretation of even the most complex ideas gave me as much reading pleasure as it did intellectual stimulation. I have no doubt that a great many readers of this extremely important book will react to it in just this way, and recommend it--as I already have--to friends and students."--Bertell Ollman, author of Dance of the Dialectic: Steps in Marx's Method

"A magnificent achievement, and a delightful read. Rick Kuhn offers a unique window into the life of one of the most important Marxist economists of all time."--Alfredo Saad-Filho, Department of Development Studies, School of Oriental and African Studies, University of London
---
To order online:
//www.press.uillinois.edu/books/catalog/83sns6qb9780252031076.html
To order by phone:
(800) 621-2736 (USA/Canada)
(773) 702-7000 (International)
Related Titles