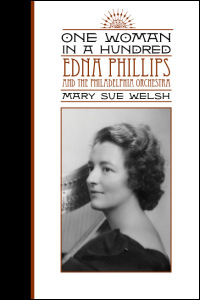 One Woman in a Hundred
Edna Phillips and the Philadelphia Orchestra
Breaking the gender barrier inside a world-class orchestra
Hired from the Curtis Institute of Music at age twenty-three, harpist Edna Phillips (1907–2003) became the Philadelphia Orchestra's first female member and the first woman to hold a principal position in a major American ensemble. In this candid account, Mary Sue Welsh traces Phillips's journey through the competitive realm of Philadelphia's virtuoso players, where she thrived thanks to her dauntless talent, determination, and lively humor.
Drawing on archival sources and extensive interviews with Phillips, her family, and colleagues, Welsh chronicles the training, aspirations, setbacks, and successes of this pioneering woman musician. Inside stories and perceptive eyewitness accounts portray controversial conductor Leopold Stokowski melding his musicians into a marvelously flexible ensemble; reveal world-class performers reaching great heights and making embarrassing flubs; and show Phillips and the orchestra experiencing the novelty of recording for Walt Disney's Fantasia.
A colorful glimpse into a world-class orchestra at the height of its powers, One Woman in a Hundred: Edna Phillips and the Philadelphia Orchestra tells the fascinating story of a woman with the strength and courage to overcome historic barriers in pursuit of her dream.
---
"Transforms into a riveting tale that spans the period from Phillip's audition to the Second World War. Recommended."--Library Journal

"Welsh's book is pure gold."--Philadelphia Inquirer

"There isn't a dull word in this book, which is difficult to put down once one opens it."--San Francisco Book Review

"Welsh has produced a richly detailed biography that captures the insider's knowledge and unique voice of her subject. . . . thoroughly engaging."--SymphonyNow

"The book was not only informative about both the personal and professional lives of Edna Phillips, but also about the inner workings of the Philadelphia Orchestra, and institution with much more drama and excitement than most would think."--The Villanovan

"Welsh's book is filled with substantive detail about the life of a serious musician, along with anecdotes about colorful guest conductors. . . .Phillips's biography becomes in effect a history of the Philadelphia Orchestra from Phillips's perspective."--BroadStreetReview
"Edna Phillips's story is significant and worth telling, and this work relates the trials, tribulations, and successes of this woman pioneer in orchestral performance. Set against the background of some of the prominent musicians of the twentieth century, One Woman in a Hundred will appeal to many general readers and music lovers."--J. Michele Edwards, professor emerita of music, Macalester College

"A refreshing addition to the literature on women in music history. One Woman in a Hundred candidly shares the experience of one woman who broke gender barriers during a significant period in the U.S. and Western Europe. Finding herself at the nexus of the powerful social and artistic elite of the day, Edna Phillips contributed greatly to the musical world through her performances and commissions."--Ann Yeung, editor of World Harp Congress Review

"Women playing in an orchestra? Unimaginable. Until Edna Phillips, just out of conservatory, innocently—but staunchly—took the stage with the Philadelphia Orchestra. The first woman to hold a principal position in a major American orchestra, opened the symphonic world to women. Hers was a life in music like no other, and Mary Sue Welsh takes us backstage for the start of a social and musical revolution."--Daniel Webster, former music critic, The Philadelphia Inquirer

"Edna Phillips was an important figure not only in Philadelphia history but also in the history of the American symphony orchestra. Her biography by Mary Sue Welsh is of great value for the light it sheds on key musical personalities of the early to mid-twentieth century, as well as the attitude of orchestra members and managements toward women. It is also a delightfully frank portrait of a woman full of moxie, wit and warmth."--Diana Burgwyn, reviewer, classical music critic

"More than providing an enthralling account of a remarkable woman, One Woman in a Hundred adds vivid portraits of such legendary titans as Leopold Stokowski and Arturo Toscanini in the context of a tumultuous period in our history. Music is the backdrop for a compelling picture of how this era of depression and war resonated throughout Philadelphia and the nation."--Harold I. Gullan, Ph.D., historian and author of Faith of Our Mothers: The Stories of Presidential Mothers from Mary Washington to Barbara Bush
---
To order online:
//www.press.uillinois.edu/books/catalog/84feq6ek9780252037368.html
To order by phone:
(800) 621-2736 (USA/Canada)
(773) 702-7000 (International)
Related Titles