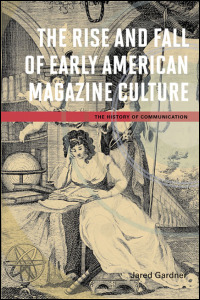 The Rise and Fall of Early American Magazine Culture
Awards and Recognition:
• A Choice Outstanding Academic Title, 2013
• EBSCOhost-Research Society for American Periodicals (RSAP) Book Prize, 2013
• Notable Title, Annual Book Award, Society for US Intellectual History, 2013
Radically revising literary history by revisiting periodicals
Between the newly canonized novels of the 1790s and the long-familiar novels of the 1820s, early American literary magazines figured themselves as museums, bringing together a multitude of notable content and enabling readers to choose what to consume. A transatlantic literary form that refused to break with British cultural models and genealogy, the early American magazine had at its center the anonymous authority of the editor and a porous distinction between reader and author. Esteemed subscribers were treated as magnets to attract other subscribers, and subscribers were prompted to become contributors, giving these early American publications the appearance of public forums. The Rise and Fall of Early American Magazine Culture reexamines these publications and their reach to show how magazine culture was multivocal, as opposed to novel culture, which imposed a one-sided authorial voice and restricted the agency of the reader.
In this first book-length study of the history of American magazine culture in the colonial and early national period, Jared Gardner describes how those who invested considerable energies in this form--including some of the period's most important political and literary figures such as Charles Brockden Brown and Washington Irving--sought to establish a very different model of literary culture than what came to define American literary history and its scholarship. He cautions against privileging novels or authors as the essential touchstones of American literary history and instead encourages an understanding of how the "editorial function" favored by magazine culture shaped reading and writing practices.
Countering assumptions about early American print culture and challenging our scholarly fixation on the novel, Gardner reimagines the early American magazine as a rich literary culture that operated as a model for nation-building by celebrating editorship over authorship and serving as a virtual salon in which citizens were invited to share their different perspectives. This important work revisits largely lost interventions in the forms and politics of literature and sounds a vibrant call to radically revise early American literary history.
---
"Gardner demonstrates that early American periodicals constitute a coherent genre and play a more central role in the formation of an early American literary imagination than is generally recognized. . . . Essential."--Choice

"Stimulating and highly readable. . . . fizzes with ideas, offered as answers to a question glossed over by established literary histories."--H-Net Reviews

"Smoothly written and well researched. . . . an important contribution to the University of Illinois Press's valuable History of Communication series."--The Journal of American History

"An eloquent picture of magazine journalism's place in literary history as the seminal contributor to the beginnings of the great American novel."--American Journalism

"The book offers much food for thought in depicting an 18th-century version of an inclusive public sphere, where semi-anonymous voices engaged in an ongoing virtual conversation without seeking recognition or profits."--Journal of Magazine & New Media Research

"This erudite, incisive, and important book traces the history of magazine culture in America from its eighteenth-century origins through the early nineteenth-century. . . . A nuanced and illuminating account of a tradition we have ignored, to our detriment, for far too long."--American Periodicals

"Essential. . . . The Rise and Fall of Early American Magazine Culture deserves to be dubbed In dispensable. As the most sustained and persuasive analysis of the early American magazine's cultural significance that we possess, as as the most detailed account of its repeated failure to prosper, Gardner's book is notable for its ability to draw broad conclusions and strong claims from the material it treats."--Amerikastudien / American Studies
"The Rise and Fall of Early American Magazine Culture is an ambitious reimagining of magazine culture in the early national period, which largely has been viewed not only as a failure but also as less important and less rich than the so-called golden age of nineteenth-century periodicals. Under Gardner's careful attention, however, the early national period emerges as a time of extraordinary periodical experimentation and worthy, in its own right, of a study such as this."--Patricia Okker, author of Social Stories: The Magazine Novel in Nineteenth-Century America

"Jared Gardner provides an innovative account of the place of the magazine in U.S. literary history that allows for a reimagining of a large part of the conventional wisdom of the field. His well-written, original book situates magazine culture between and against the newspaper press on one hand and the novel on the other, and he usefully explains both the curious career trajectories of a number of familiar writers and the reasons why intelligent men and women continued to produce magazines without rational expectation of commercial success or viability."--John C. Nerone, coauthor of The Form of News: A History
---
To order online:
//www.press.uillinois.edu/books/catalog/84fyq8ec9780252036705.html
To order by phone:
(800) 621-2736 (USA/Canada)
(773) 702-7000 (International)
Related Titles