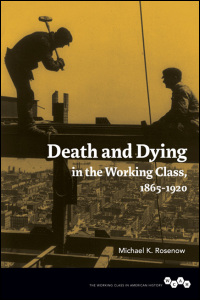 Death and Dying in the Working Class, 1865-1920
Awards and Recognition:
• Herbert G. Gutman Award, Labor and Working-Class History Association (LAWCHA), 2009
The inequalities surrounding the great equalizer
The post–Civil War Industrial Age brought fundamental changes to the economy and its workers, forcing Americans to reassess the meaning of life and death. This illuminating study of working-class rituals of dying and the politics of death explores how Americans struggled to understand the broader forces transforming their worlds.
Michael K. Rosenow investigates working people's beliefs and practices in this important era by homing in on three overarching questions: How did workers, their families, and their communities experience death? Did various identities of class, race, gender, and religion coalesce to form distinct cultures of death for working people? And how did people's attitudes toward death reflect notions of who mattered in U.S. society? Drawing from an eclectic array of sources ranging from Andrew Carnegie to grave markers in Chicago's potter's field, Rosenow portrays the complex political, social, and cultural relationships that fueled the industrial ascent of the United States.
---
"For scholars seeking insight into the formation of class identity among the industrial workforce and an intellectually creative use of methodologies to examine the links between religion, ethnicity, and class, Rosenow's study provides an evocative study of social transformation as well as introducing a rich field for further research."--H-Net

"A tantalizing and well-researched glimpse into the rituals of death for workers whose lives held little value outside their own communities in industrializing America."--Annals of Iowa

"Rosenow is to be congratulated on his mastery of diverse literatures and his rigorous argument. Death and Dying in the Working Class, 1865-1920 demonstrates that wageworker's rituals--and the industrial violence that engendered them--were foundational to the formation of working-class identities and organizations."--American Historical Review

"In his thoughtfully conceived and clearly developed study, Michael K. Rosenow shows that in death as in life, American workers existed on anything but a level playing field."--The Journal of American History

"This award-winning book (it won the Herbert G. Gutman Prize from the Labor and Working Class History Association) helps us understand the complex ways the working class has responded to death on the job and expands our notions of American ways of caring for—and about—the dead."--Journal of Social History

"Rosenow's book offers rich insight into how the working class of the early twentieth century approached death within their historical and situational context."--Working USA
"Through portraits of industrial accidents, political funerals, and burial rituals, this compelling reinterpretation of working-class culture and the making of labor solidarity highlights how bodies in their gendered, class, and ethnic valences matter--in death as well as life. Michael Rosenow captures the hazards of work in coal and steel in a world where cults of manliness and productivity proved deadly, but resistance and accommodation took multiple forms."--Eileen Boris, Hull Professor of Feminist Studies, University of California, Santa Barbara

"Engaging, thoughtful, and very readable . . . It adds to our knowledge of how Americans responded to the changes brought by industrialization in the second half of the nineteenth century."--Robert V. Wells, author of Life Flows On in Endless Song: Folk Songs and American History

"Rosenow usefully extends a now-rich literature on American memorial practices to the northern industrial working classes from the Civil War to World War I. . . . This pioneering study deserves wide attention."--Leon Fink, author of Sweatshops at Sea: Merchant Seamen in the World's First Globalized Industry, from 1812 to the Present
---
To order online:
//www.press.uillinois.edu/books/catalog/84kgx8ck9780252039133.html
To order by phone:
(800) 621-2736 (USA/Canada)
(773) 702-7000 (International)
Related Titles