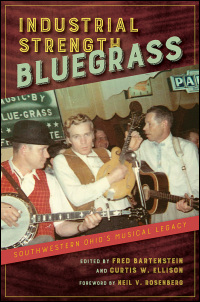 Industrial Strength Bluegrass
Southwestern Ohio's Musical Legacy
High lonesome in the heartland
In the twentieth century, Appalachian migrants seeking economic opportunities relocated to southwestern Ohio, bringing their music with them. Between 1947 and 1989, they created an internationally renowned capital for the thriving bluegrass music genre, centered on the industrial region of Cincinnati, Dayton, Hamilton, Middletown, and Springfield. Fred Bartenstein and Curtis W. Ellison edit a collection of eyewitness narratives and in-depth analyses that explore southwestern Ohio's bluegrass musicians, radio broadcasters, recording studios, record labels, and performance venues, along with the music's contributions to religious activities, community development, and public education. As the bluegrass scene grew, southwestern Ohio's distinctive sounds reached new fans and influenced those everywhere who continue to play, produce, and love roots music.
Revelatory and multifaceted, Industrial Strength Bluegrass shares the inspiring story of a bluegrass hotbed and the people who created it.
Contributors: Fred Bartenstein, Curtis W. Ellison, Jon Hartley Fox, Rick Good, Lily Isaacs, Ben Krakauer, Mac McDivitt, Nathan McGee, Daniel Mullins, Joe Mullins, Larry Nager, Phillip J. Obermiller, Bobby Osborne, and Neil V. Rosenberg.
---
"A revealing glimpse into a chapter of bluegrass history that until now has been little explored. The book offers an important introduction to and an excellent starting point for further conversations about how the culture and history of southwestern Ohio continue to shape bluegrass music in enduring ways." --No Depression

"An appealing and accessible musical history that showcases the importance of homegrown regional musical culture. For bluegrass fans and historians of the genre." --Library Journal

"With its extensive notes and sources, this book is a rich resource of information and powerful insights into the people and times that left an indelible mark on bluegrass." --Bluegrass Unlimited

"Industrial Strength Bluegrass: Southwest Ohio's Musical Legacy, both the book and the recording, are major contributions to the field of Appalachian Studies. These works provide a view of the urban Appalachian experience that reveals the story of Appalachian migration, the influence of Appalachian culture in areas like greater Cincinnati and takes us up to the present ways that Appalachian culture still impacts the region and the world beyond." --Urban Appalachian Community Coalition

"They have created this lively look at the southern Ohio region and the music that magically materialized when the right people came along. . . . Soundly supported scholarship and down-to-earth accounts from those who were there and made it happen." --Bookreporter.com


"My family left Jackson County, Kentucky, in the late 1950s to find work in Ohio. The sounds and songs from home naturally tagged along with us. Riding around in Dad's truck there as a kid, the first music I remember hearing was the Osborne Brothers and Flatt and Scruggs on WPFB. Industrial Strength Bluegrass brings to life how bluegrass developed in the Cincinnati/Dayton region. I love the vivid stories of how the genre came of age and all the fascinating characters who catapulted it onto the world's stage."--Dan Hays, former Executive Director of the International Bluegrass Music Association

"Essential reading for any bluegrass fan. What a cast—from flawed geniuses, raucously liberated women, and gun-toting business proprietors to Eagle Scouts, professors, and creative artists of the highest order, all mixed together in the same petri dish, all true to themselves and their music. The setting for the first bluegrass college concert, Antioch, as well as where Mike Lilly rode his Harley into the Living Arts Center; Moon Mullins professed, promoted, and ad-libbed commercials with colorful epithets surpassing Barnum's; motley barrooms became famous nationwide for the quality of the music played there; and, true to their work ethic, bluegrass professionals sprouted everywhere and many rose to national fame. The barroom bluegrass of Southwest Ohio spawned by Appalachian transplants who had taken the 'trail of the bologna rinds' was just as good and often more exciting than the bluegrass of the traveling professionals who first developed the music. When the two met here, it split the bluegrass atom."--Ron Thomason, founder and leader of the Dry Branch Fire Squad

"Industrial Strength Bluegrass is a collection of essays on the region's music, culture and history, with accounts of churches, record makers and sellers, radio and television, outdoor festivals, college concerts, and 'knife and gun' wide-open hillbilly bars, telling how the music took hold. . . . There's a wealth of detail added to good stories and lots of footnotes; they reveal much about what has made Miami Valley bluegrass special, and worth the devotion its fans still lavish on it."--Richard K. "Dick" Spottswood

"It's a great read. Although I never lived in the area, I was in and out of there pretty often. My compliments to all who contributed to the effort and I encourage everyone to get this book ASAP!"--Doyle Lawson, Doyle Lawson and Quicksilver

"A wonderful contribution to our understanding of American musical history."--Howard L. Sacks, Co-author of Way Up North in Dixie: A Black Family's Claim to the Confederate Anthem
Publication supported by a grant from the Judith McCulloh Endowment for American Music.
---
To order online:
//www.press.uillinois.edu/books/catalog/84mpe8sf9780252043642.html
To order by phone:
(800) 621-2736 (USA/Canada)
(773) 702-7000 (International)
Related Titles
previous book
next book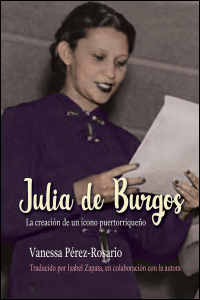 Julia de Burgos
La creación de un ícono puertorriqueño
Vanessa Pérez-Rosario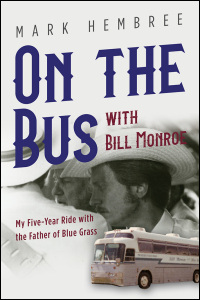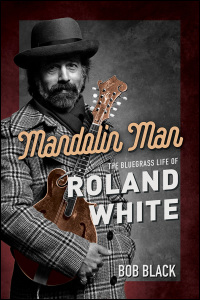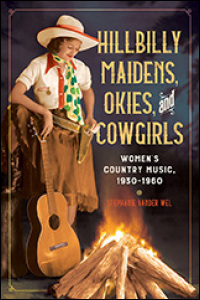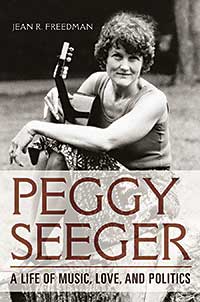 Peggy Seeger
A Life of Music, Love, and Politics
Jean R. Freedman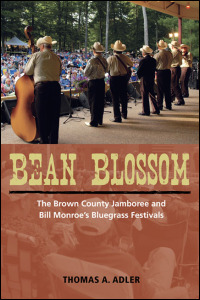 Bean Blossom
The Brown County Jamboree and Bill Monroe's Bluegrass Festivals
Thomas A. Adler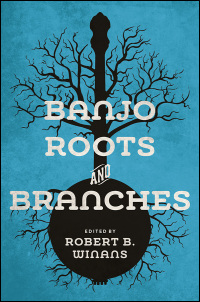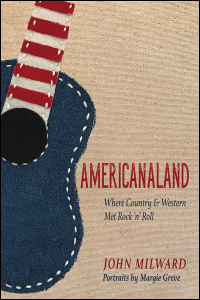 Americanaland
Where Country & Western Met Rock 'n' Roll
John Milward