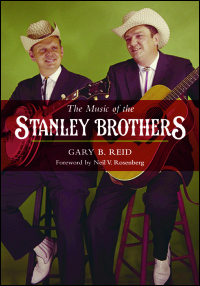 The Music of the Stanley Brothers
Awards and Recognition:
• Best Discography, Association for Recorded Sound Collections (ARSC), 2016
• Bluegrass Print/Media Person of the Year, International Bluegrass Music Association (IBMA), 2015
The premier guide to the lives and work of bluegrass icons
In 1946, the Stanley Brothers embarked on a career that helped define and shape the creation of bluegrass music. Carter Stanley, whom Bill Monroe called "the finest natural lead singer there ever was," wrote emotionally wrenching songs interpreted in harmony with brother Ralph's haunting high tenor and voices from members of their band, the Clinch Mountain Boys.
The Music of the Stanley Brothers brings together forty years of passionate research by scholar and record label owner Gary B. Reid. A leading authority on the Stanleys, Reid augments his own vast knowledge of their music with interviews, documents ranging from books to folios sold by the brothers at shows, and the words of Ralph Stanley, former band members, guest musicians, session producers, songwriters, and bluegrass experts. The result is a reference that illuminates the Stanleys' art and history.
It is all here: dates and locations; the roster of players on well-known and obscure sessions alike; master/matrix and catalog/release numbers, with reissue information; a full discography sorting out the Stanleys' complex recording history; the stories behind the music; and exquisitely informed biographical notes that place events in the context of the brothers' careers and lives. Monumental and indispensable, The Music of the Stanley Brothers provides fans and scholars alike with a guide for immersion in the long career and breathtaking repertoire of two legendary American musicians.
---
"This book is a must for any Stanley Brothers fan. You've cast light into what was a dark place of much-needed information. Thanks for your research. Long live the Stanley Brothers!!!"--Ricky Skaggs

"An important link in bluegrass history. The amount of information is staggering, and this will be the encyclopedia of the Stanley Brothers, the best source of information about their musical legacy."--Country Standard Time

"Say hello to the Boyhood of bluegrass music journalism, a book that has taken Gary Reid some 40 years to piece together. . . . As an all-encompassing guide to their music, this is indispensable."--Mojo

"An excellent reference for anyone interested in the Stanley Brothers years."--The Lonesome Road Review

"Authoritative. With its publication, Music of the Stanley Brothers becomes one of the most important sources about one of history's most important bluegrass groups."--Journal of Folklore Research

"Reid has amassed, and shared, a massive number of facts which is testimony to the depth of his research and knowledge. . . . It appears as if nothing escapes Reid's attention."--Bluegrass Today

"The Music of the Stanley Brothers is an essential entry in the work of chronicling the history of bluegrass and its practitioners."--Music Tomes

"Gary Reid's Music of the Stanley Brothers brings together a lot of information about one of the most important first-generation bluegrass groups. The level of detail and completeness of the discography make the listings authoritative. . . . With its publication, Music of the Stanley Brothers becomes one of the most important sources about one of history's most important bluegrass groups."--Journal of Folklore Research

"This session-by-session examination of the Stanley Brothers recorded output is, therefore, the result of more than 40 years of research and faultless in its attention to detail. . . . The definitive work."--Country Music People

"The present fact-filled book offers a complete discography and discusses every recording session and every recording the Stanleys made. . . . contributing to the history of bluegrass on record during the genre's first 20 years. Recommended"--Choice

"The Music of the Stanley Brothers handily accomplishes its goal, greatly expanding the historical accuracy of and context behind this group's acclaimed legacy of commercial recordings. It represents an indispensable reference for any scholar or enthusiast interested in bluegrass music history and culture."--Indiana Magazine of History

"Gary Reid has written as thorough a history of the Stanley Brothers' recording and touring career as anyone could want. Complete with an exhaustive discography and a colorful narrative, this addition to the University of Illinois Press's Music in American Life series will delight any fan of the Stanleys, and prove useful to any researcher interested in the band's musical activities and significance to the bluegrass music."--Notes
"Likely to become the definitive work on the music made by this pioneering bluegrass band. An enjoyable work for any Stanley Brothers fan, and absolutely essential for everyone who desires to understand the development of bluegrass." --Thomas A. Adler, author of Bean Blossom: The Brown County Jamboree and Bill Monroe's Bluegrass Festivals

"The Stanleys recorded in many different places, their supporting musicians changed frequently, and . . . the sources of their material can be a bewildering labyrinth. Gary Reid has untangled this labyrinth and everything else connected with it with admirable dexterity, though one cannot say he has done it easily: his book is the result of decades of hard work. . . . A splendid work of scholarship."--John Wright, author of Traveling the High Way Home: Ralph Stanley and the World of Traditional Bluegrass Music
---
To order online:
//www.press.uillinois.edu/books/catalog/84pgh9td9780252080333.html
To order by phone:
(800) 621-2736 (USA/Canada)
(773) 702-7000 (International)
Related Titles