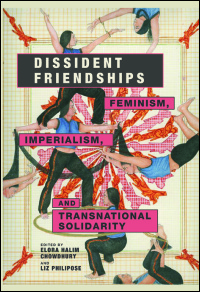 Dissident Friendships
Feminism, Imperialism, and Transnational Solidarity
Women enacting friendship across multiple borders
Often perceived as unbridgeable, the boundaries that divide humanity from itself--whether national, gender, racial, political, or imperial--are rearticulated through friendship. Elora Halim Chowdhury and Liz Philipose edit a collection of essays that express the different ways women forge hospitality in deference to or defiance of the structures meant to keep them apart.
Emerging out of postcolonial theory, the works discuss instances when the authors have negotiated friendship's complicated, conflicted, and contradictory terrain; offer fresh perspectives on feminists' invested, reluctant, and selective uses of the nation; reflect on how the arts contribute to conversations about feminism, dissent, resistance, and solidarity; and unpack the details of transnational dissident friendships.
Contributors: Lori E. Amy, Azza Basarudin, Himika Bhattacharya, Kabita Chakma, Elora Halim Chowdhury, Laurie R. Cohen, Esha Niyogi De, Eglantina Gjermeni, Glen Hill, Alka Kurian, Meredith Madden, Angie Mejia, Chandra T. Mohanty, A. Wendy Nastasi, Nicole Nguyen, Liz Philipose, Anya Stanger, Shreerekha Subramanian, and Yuanfang Dai.
---
"A timely collection."--Women's Alliance for Theology, Ethics and Ritual

"Vivid, clear, diverse, and creative, the essays in this volume demonstrate the tenacity of emotional relationalities and agnostic attachments, dissident friendships that can help redefine our connections amid the nefarious intricacies of power relations."--Signs
"Elora Halim Chowdhury and Liz Philipose's dazzling collection invites readers to consider the politics of feminist friendships, alliances, and collaborations. The volume explores the powerful ways that we can be transformed by our connections with others, and urges a new attention to feminist friendships as sites of generosity and empathy, alliance and resistance. Chowdhury and Philiopose's volume reminds us that friendship is fraught terrain, that we encounter each other across borders and boundaries of multiple kinds, and that the language of friendship can be co-opted by discourses of neoliberalism and imperialism. Yet their contributors urge us to continue to dream of the promise of connection, consciousness, and transformation that dissident friendships make possible."--Jennifer Nash, author of The Black Body in Ecstasy: Reading Race, Reading Pornography

"Rejuvenating our expectations of the most commonplace of human relations, Dissident Friendships challenges us to politicize that which is either overlooked or dismissed by more mainstream academic investigations. The intricate and compassionate analyses of friendship presented in these pages leave us renewed and provide an energizing vision for gender studies scholarship, social transformation, and productive solidarities."--Shefali Chandra, author of The Sexual Life of English: Languages of Caste and Desire in Colonial India

"Dissident Friendships is a significant transdisciplinary intervention that engages seriously with the meanings and possibilities of transformative feminist praxis in the face of the contradictions and complicities produced by neoliberalism, militarism, imperialism, humanism, and peace-building initiatives. Together, the contributors not only advance critical conversations about the work of affect in transnational solidarities and alliances; they also grapple in rich ways with the theoretical, methodological, and political complexities that are co-constitutive of the labor of dreaming, living, sustaining, and remaking epistemic friendships and communities across borders."--Richa Nagar, author of Muddying the Waters: Coauthoring Feminisms across Scholarship and Activism
Publication of this book was supported by funding from the University of Massachusetts Boston.
---
To order online:
//www.press.uillinois.edu/books/catalog/84rby3dr9780252040412.html
To order by phone:
(800) 621-2736 (USA/Canada)
(773) 702-7000 (International)
Related Titles