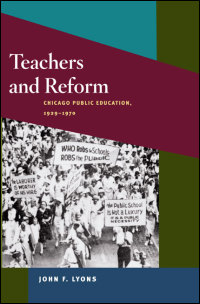 Teachers and Reform
Chicago Public Education, 1929-1970
Measuring the impact of the Chicago Teachers Union on public education in Chicago
From the union's formation in 1937 until the 1960s, the Chicago Teachers Union (CTU) was the largest and most influential teachers' union in the country. John F. Lyons examines the role of public schoolteachers and the CTU in shaping the policies and practices of public education in Chicago.
Examining teachers' unions and public education from the bottom up, Lyons shows how the CTU and its members sought rigorous reforms. A combination of political action, public relations campaigns, and community alliances helped the CTU to achieve better salaries and benefits, increased school budgets, reformed curricula, and greater equality for women within the public education system. But its agenda was also constrained by internal divisions over race and gender and by ongoing external disputes with the school administration, politicians, and business and civic organizations.
Detailed and informed by rich interviews, Teachers and Reform: Chicago Public Education, 1929-1970 tells the story of how committed union members effected changes to public education and to local politics that still benefit Chicago teachers, students, and the city today.
---
"Lyons's monograph is clearly written, impeccably organized, and . . . cogently argued. Grounded in an impressive array of archival, print, and oral sources, Teachers and Reform is an important contribution to the field."--Journal of Illinois History

"This powerful book is a detailed account of 40 years in the history of Chicago schools. . . . Recommended."--Choice

"Extremely useful for labor historians interested in the institutional development of the nation's first and most prominent teachers' union. . . . Lyons's book offers a roadmap to how one city got us here, laying out, in as clear a manner as possible, the dense thicket of issues at stake and at play in the teacher union movement."--H-Urban

"This book is one the best histories of public-sector unionism yet. It is an excellent study of teachers' unions in Chicago and also a fine piece of local political history, with interesting interpolations of race, gender, and education policy issues as well."--American Historical Review

"In his engaging case study ... Lyons captures the seedy side of school politics and the ambiguous, often disappointing role that unions have played in educational reform."--The Journal of American History

"A masterful scholarly study of Chicago teacher unionism."--Labour/Le Travail

"A straightforward, well-written study of education in a major U.S. city."--H-Education
"Teachers and Reform provides an excellent narrative of teachers' unionization in Chicago from 1929-70. Lyons makes effective connections between city politics and the rise of the Chicago Teachers Union (CTU) and between the rise of black political consciousness and the crisis of the CTU."--James R. Barrett, author of William Z. Foster and the Tragedy of American Radicalism

"A welcome contribution to the historical literature on teachers' unions that speaks also to contemporary teacher unionism. The focus on the Chicago Teachers Union and its major early leader, John Fewkes, during and after the Depression corrects an imbalance in the literature that has favored the Chicago Teachers Federation and Margaret Haley. Lyons's thorough analysis of the CTU raises important questions about the contours of union conservatism and its interaction with race and collective bargaining."--Wayne J. Urban, associate director and professor, Education Policy Center, University of Alabama
---
To order online:
//www.press.uillinois.edu/books/catalog/84yks5ag9780252032721.html
To order by phone:
(800) 621-2736 (USA/Canada)
(773) 702-7000 (International)
Related Titles